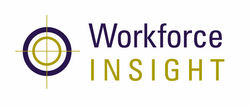 CEOs and profit leaders have learned that the smartest, fastest way to achieve market dominance is through effective workforce transformation and dead-on alignment between workforce technology and core business objectives.
Denver, CO (PRWEB) December 18, 2008
Workforce Insight announced today that it continues to expand its Retail Strategic Services group to accommodate peak demand from retail customers as they battle one of the toughest economic climates in years.
"Labor is every retailers' single, most controllable expense. It's also their most valuable asset," said Larry Leibach, Retail Strategic Services Director. "CEOs and profit leaders have learned that the smartest, fastest way to achieve market dominance is through effective workforce transformation and dead-on alignment between workforce technology and core business objectives."
Larry also said, "Despite store closings, retail IT spending is up, as merchants recognize that they can be leaner and more profitable now, while building the foundation to seize more share when the market rebounds."
In the past 2 quarters of 2008, Workforce Insight has significantly expanded the breadth and depth of its retail consulting arm, leveraging deep expertise across all retail verticals including big box, specialty (both hard and soft goods), department stores, supermarkets, food service, hospitality, and automotive. As independent, strategic advisors the company's growth has also been disciplined to leverage advanced expertise with all leading retail wfm solutions, including Kronos, RedPrairie, Infor (formerly Workbrain) and others, as well as premier traffic counting and task management providers. Workforce Insight has also restructured its workforce management consulting arm into 3 divisions to accommodate increased demand for specialized industry consultants and change management experts.
The Retail Strategic Services Division is led by Larry Leibach, former Director of Store Operations and Profit Improvement for Payless Shoes where he was renowned for his success in leading one of the most highly regarded workforce management implementation projects to date.
"Today, more than ever, retailers are seeking turn-key expertise to help them become more effective in their management of labor," said Don Giffels, Managing Partner for Workforce Insight. "Larry is an exceptional leader with deep expertise in executing workforce management solutions for some of the world's largest and most complex retail organizations. He continues to assemble a stellar team, with proven success in aligning solutions that address the most critical objectives of retailers, while strengthening our growth as a best-in-class consulting and implementation firm."
Workforce Insight has amassed a group of retail consultants and former retailers who have worked with or at some of the most well-known organizations in the U.S. and abroad, including Target, Nordstrom, Best Buy, Toys R Us, Game Stop, Home Depot, Radio Shack, Walt Disney Parks and Resorts.
Some noteworthy leaders who have most recently joined the company include Retail WFM Strategist Marisue Wells, Director of Retail Business Development Dylan Riley and Retail WFM Consultant Jan Nurse. Marisue's long and distinguished career in retail human capital management was most recently marked by her success as a Manager of Retail Operations Business Consulting for Accenture. Marisue leads strategic oversight and has been applauded for practical innovation that improves retail store execution through advanced use of time and labor data, meticulous execution of retail systems, and effective change management.
Dylan came to Workforce Insight from one of the leading workforce management software vendors. There he earned leadership acclaim for integrity and breakthrough initiatives that helped large retailers navigate strategic and operational landscapes to improve workforce performance. Dylan leads targeted retail expansion to help merchants identify opportunities to transform their business through smarter investments in people and technology.
Jan came to Workforce Insight from Best Buy Canada where she pioneered workforce process improvements, transformed user acceptance, and led advanced system adoption to improve forecasting and corporate visibility to workforce analytics. Jan, among others at Workforce Insight, has led user group forums to improve workforce technology and has been invited to speak as a panel expert in the past for the National Retail Federation (NRF).
Next month, several members of Workforce Insight's Retail Strategic Services team will be at the NRF 98th Annual Convention & EXPO in New York (Jan 11-14, 2009) where they be joined by customers, retailers and industry experts as they field questions and help retailers set the course for success during challenging times, and beyond. Workforce Insight will also be exhibiting at Booth # 218. For more information, visit the NRF Annual Convention Site.
About Workforce Insight, Inc.:
Workforce Insight, Inc. is the leading provider of strategic workforce management consulting and implementation services, committed to helping global enterprises leverage technology to enhance and preserve their most valuable asset -- their people. Workforce Insight has been recognized in the human resource marketplace as the difference between a standard that relies on technology alone and optimal results that are only achieved through the hands-on stewardship, insight and expertise of HR visionaries and consultants. For more information about Workforce Insight call 800.394.5516 or visit Workforce Insight.
###