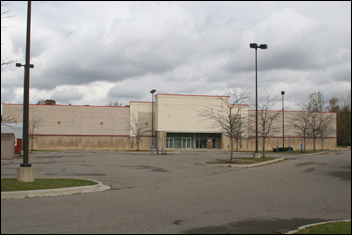 It's not often we get to offer such a viable retail opportunity. This is a exceptional and attractive property
Lakeland, FL (PRWEB) November 2, 2006
Higgenbotham Auctioneers announced today that they will offer at auction a Taylor Michigan retail building formerly occupied by national sporting goods retailer, Sports Authority. This prime retail space is situated on 5.69± acres with premium exposure on Interstate 75 and measures in at 40,368±sq.ft. This retail building is adjacent to high volume retailers such as Home Depot, JC Penny's, Kohl's, Macy's and Best Buy and is located just minutes from Southland Mall.
The auction will be held on site at11:00 AM, Tuesday, November 14th and the building may be previewed from 11 AM - 2PM on Wednesday, November 8th.
"It's not often we get to offer such a viable retail opportunity. This is a exceptional and attractive property," stated Earl Williams, Auction Manager for Higgenbothan Auctioneers.
Potential bidders are encouraged to contact Higgenbotham Auctioneers to receive a sales brochure and due diligence package. Higgenbotham can be reached at 1-800-257-4161 or on the web at http://www.higgenbotham.com
Founded in 1959, Higgenbotham Auctioneers International utilizes the auction method of marketing to sell real estate throughout the United States and the world. Higgenbotham's success is attributed to the company's stellar track record in marketing unique properties and the firm enjoys continuing relationships with Fortune 500 clients such as Alcoa, Wal-Mart, and Albertson's Supermarkets, as well as many other publicly traded and closely held companies.
# # #