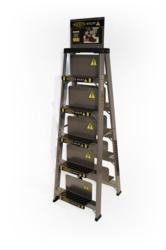 nParallel's design of the fixture as a metal ladder, with five steps on each side as the shelves, stood out as the most compelling.
Minneapolis, Minn. (PRWEB) December 01, 2011
nParallel announced its selection by KEEN Inc. to design, fabricate and distribute a new floor fixture to display KEEN Utility footwear. nParallel is a full-service agency that creates, crafts, and takes charge of displays and fixtures designed to establish brands in tradeshow, retail and corporate environments. KEEN Inc. is a manufacturer of footwear, socks and bags that enable outdoor enthusiasts to live an active lifestyle.
KEEN is a noted outdoor brand that appeals to individuals who enjoy playing hard outdoors. Superior fit, extra durability, unending comfort, and exceptional performance are core elements of its brand. For its Utility line, KEEN has the challenge of conveying these attributes to a different audience: people who work hard both indoors and outdoors. In addition, the working audience has its own specific set of footwear requirements (such as advanced protection with steel toes and slip resistance). KEEN required a floor fixture that would communicate its brand to people who work on construction jobsites and factory floors.
The KEEN Utility collection line is fast-growing, doubling the number of products in just a year. A new floor fixture had to display ten different shoe styles while presenting a clean, neat appearance.
"nParallel designed the most unique and exceptional solution for our new floor fixture," said Kristin Murray, marketing coordinator, KEEN Inc. "Their concept of the fixture as a metal ladder, with five steps on each side as the shelves, stood out as the most compelling design. Our Utility sales team was enthusiastic about getting it out to retailers."
About KEEN
KEEN Inc., manufacturer of original hybrid footwear, bags and socks was founded in 2003. Headquartered in Portland, Oregon, KEEN offers innovative hybrid products, enabling outdoor enthusiasts to live an active lifestyle. KEEN's products are sold in specialty footwear, travel and outdoor retailers, premium-sporting goods retailers and major outdoor specialty retail chains worldwide. KEEN Utility footwear is sold in specialty footwear and retailers. In 2010 KEEN was named one of "America's Best Places to Work" by Outside magazine.
KEEN creates solutions to creative questions such as "Can a sandal protect your toes?" Yes. "Can a bag manage your life better through improved organization?" Yes, again. "Is it possible to rethink a sock?" You guessed it. KEEN products allow you to go anywhere and do anything—whether you're trekking the wilds of the world, exploring a cool city, heading to work or even the playground down the street. KEEN strives to demonstrate integrity and leadership while promoting a vibrant, inclusive community. Through its giving program, Hybrid.Care, KEEN supports a variety of social and environmental organizations around the globe.
Discover more about KEEN and KEEN Utility and keep up online at http://www.keenfootwear.com, http://www.keenutility.com, http://www.facebook.com/keenutility and http://www.twitter.com/keen_utility.
About nParallel
Marketers and retailers know that displays and fixtures establish their brand experience, engage customers, and drive sales – if they are designed with imagination, skillfully crafted, and managed intelligently. Too often, unfocused planning, uneven execution and unexpected costs squeeze the creative spark out of their most compelling concepts. Their alternative is nParallel, the full-service agency that creates, crafts and takes charge of displays and fixtures designed to embody brands. Whether the venue for connecting with customers is a show, a store or a headquarters, the pros at nParallel fulfill the big-picture vision with a sharp eye focused on the small details of disciplined production and meticulous program management. For excellence without compromise, count on nParallel (http://www.nparallel.com).
# # #