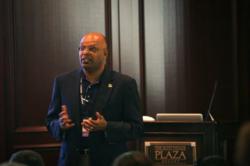 Next Generation Retail Lean Sourcing
Atlanta, GA (PRWEB) February 17, 2009
The Innovation '09 Best Practices in Sourcing and Procurement Conference scheduled for March 8-10 in Scottsdale, AZ, will feature John Wilkerson, CPSM, SSMBB as a Keynote Speaker. Wilkerson will present a retail strategic sourcing best practice titled, "Next Generation Retail Lean Sourcing" - "How to Develop Strategic Sourcing Cost Reduction Projects with POS Data".
The private conference will involve Intesource Inc.'s A list of domestic and international customers, suppliers, and supply chain partners. This annual event will include sourcing, procurement, purchasing, contract and supply chain management cost reduction best practices applicable to multiple sectors and industries.
John Wilkerson is Executive Director for Bellwether Services, an Atlanta-based Business Process Improvement firm. He is a seasoned Sourcing, Supply Chain, and Lean Sigma Master Black Belt having led or mentored more than 100 process improvement projects across North America, Europe, and Asia geographic regions. Wilkerson's technical expertise includes; Sales, and Operations Planning (S&OP), Business Intelligence, International Logistics, Supplier Quality, Retail Manufacturing, Demand and Supply Planning.
Gregory J Chevalier, Vice President of Partner Strategy for Intesource commented, "We are excited to have John speak to our customers and prospects at our conference." " John brings terrific depth and subject matter expertise within the Lean Sourcing Industry, and Intesource is honored to have him represent our Key Note Session."
About Intesource:
Intesource, Inc. is a global provider of profit improvement solutions including Full Service intelligent sourcing and collaboration, contract management, information, and services. Serving many industries, we deliver superior technology and services backed by industry-leading best practice methodologies. Our on-demand and enterprise solutions lead to immediate high-impact results including enhanced productivity, cost reduction, and bottom-line profitability.
About Bellwether:
An internationally recognized Green Supply Chain, Spend Management, Lean Six Sigma, and Quality Audit solution provider, Bellwether Services is dedicated to numerous industries such as; Private Equity, Beverage, Food, Aerospace, Financial Services, Global Logistics Solution Providers, as well as Public Health, Medical Devices, Pharmaceutical and the Departments of Defense and Homeland Security.
For more information, please visit our website @ http://www.bellwether-services.com/solutions/lean_sourcing.html.
Contact:
John Wilkerson
sales(at)bellwetherservices(dot)com
http://www.bellwether-services.com/solutions/lean_sourcing.html
404.386.2437
Our Mantra- Believe, Execute, Achieve
###