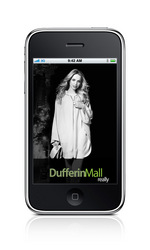 The influence mobile push promotions will have on shoppers' behavior is exciting.
(PRWEB) October 15, 2010
Mobile Fringe, a recognized leader in retail mobile apps developed specifically for shopping centers, is pleased to announce the launch of Dufferin Mall's iPhone app built on the Mobile Fringe platform.
Dufferin Mall is now the first retail mall to launch with 'Promotion Push Messaging' ensuring their retailers and shoppers will always stay connected on the latest promotions. Shoppers can subscribe to their favorite stores promotions or events allowing retailers a direct connection to their loyal consumers' mobile phones.
Renowned for its rich legacy of community collaboration in the densely populated west end of Toronto, Dufferin Mall's 12 million shopper visitors now have a new shopping tool for their next visit.
"We are very excited to see the launch of the Dufferin Mall iPhone app. This mobile app takes the retail experience to a new level. This is real-time engagement of a shopper in your mall. The influence mobile push promotions will have on shoppers' behavior is exciting. Shopper feedback shows they would visit the mall more with this feature." says Steve Sorge, CEO, Mobile Fringe. "We don't plan to stop there. Look forward to seeing new features driving social engagement by delivering location based offers – and that's way more than Twitter and Facebook"
Learn more about the Dufferin Mall iPhone App and Download Here
Learn more about the Mobile Fringe Retail Platform and Shopping Center Platform for all mobile devices Here
About Mobile Fringe
Mobile Fringe collaborates with our enterprise and marketing clients, in order to leverage the mobile channel. Our award winning, proprietary software, has been specifically designed for these strategic initiatives.
Mobile Fringe delivers solutions that not only integrate with, but also enhance existing business systems and marketing strategies. We unlock the potential of mobile for your organization - today and for the future.
Mobile Fringe is a leader in retail mobile apps with a portfolio of valued clients in retail property management. Mobile Fringe's apps have been recognized and awarded by Apple and the International Council of Shopping Centers (ICSC).
###