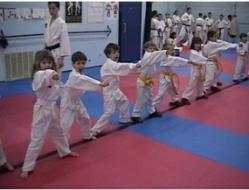 safe and fun environment
Minneapolis, MN (PRWEB) April 16, 2013
New Hope, MN Karate school, American Karate Studio, occupying suburban Minneapolis retail space with JGM since 2003, is now offering two weeks of unlimited classes for $20.00, in celebration of their new relocation space (around the corner from the original New Hope location).
Founded in 1986, American Karate Studio trains beginners and experts alike in the Korean martial art of tae kwon do. Students at American Karate Studio are taught that restraint and the avoidance of conflict are the highest virtues. Founder and head instructor, Vic Marotta, has over 45 years of martial art experience and is Minnesota's first national level, open tournament black belt champion.
"We offer a safe and fun environment to practice and we are always happy to have new students," says Mr. Marotta.
If you are looking for a great workout or for a sense of confidence and security, American Karate Studio will help you in your journey. Students range in age from four to 75. Men, women, and children are invited to train. Children's classes are available.
For more details, or to set up a free consultation, contact American Karate Studio:
Address:
American Karate Studio
9428 36th Avenue North
New Hope, MN 55428
Phone:
763-542-9975
http://www.americankaratestudio.com
JGM Properties owns and manages 11 suburban Minneapolis office space and warehouse buildings including the Caribou Corner Mall, located in New Hope, MN. Founded in 1980 and working with over 200 tenants, JGM Properties provides competitively priced office, warehouse, and retail space for lease in the Minneapolis Minnesota commercial real estate market.