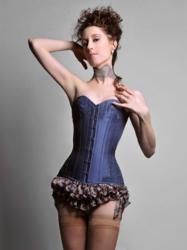 I teamed up with Angela Friedman, designer of both custom and ready-to-wear corsets to better understand this challenging lingerie item - Ali Cudby
New York, NY (PRWEB) May 31, 2013
The Lingerie Journal recently released a Corset Guide for Retailers. The two-part series is aimed at helping retailers understand corsets and gives them practical and actionable tips for buying, merchandising and selling.
Written by Ali Cudby, author of the bestselling bra fit guide Busted! and founder of the FabFit Academy, the series includes imagery from corset maker Angela Friedman and a handy corset glossary for readers.
"I teamed up with Angela Friedman, designer of both custom and ready-to-wear corsets to better understand this challenging lingerie item. Angela shared the key tips lingerie professionals need to stock, measure and merchandise these garments," said Cudby.
Part two of the series covers the differences between custom and ready-to-wear corsets. To explore the differences, Angela Friedman created a custom corset for Ali Cudby in order to show readers the steps and differences along the way.
"Ali and Angela have done an incredible job of showcasing the art and business of corsetry to our readers," said Luis Paredes, publisher of the Lingerie Journal. "A lot of boutique store owners have already commented positively about the articles and how it has already helped them."
All of Ali's Retail Advice columns can be found here: http://thelingeriejournal.com/category/opinion-columns/ali-cudby-opinion-columns/
About The Lingerie Journal
The Lingerie Journal is the number one online lingerie trade publication in the United States reaching hundreds of consumers, buyers, lingerie retail store owners, independent lingerie designers, wholesale manufacturers, influential lingerie bloggers, and other intimate apparel professionals (as well as those in related fields) on a daily basis. Follow and interact with the Lingerie Journal on Twitter to learn more and keep up on the latest lingerie news and lingerie trends @lingeriejournal.