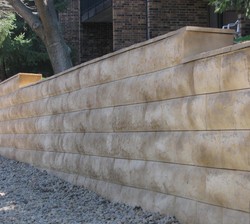 We use 100 percent recycled, pre-consumer polymeric resin materials in all our Millenia wall products
Minneapolis, MN and New Orleans, LA (PRWEB) May 12, 2008
Today at the National Association of Home Builders (NAHB) National Green Building Conference, underway at the Sheraton New Orleans in New Orleans, La., Millenia Wall Solutions (booth G608) is showcasing its high-tech, eco-friendly retaining wall system. Compared to concrete segmental retaining wall (SRW) blocks, Millenia wall units reduce the overall environmental impact of retaining walls by 55 percent.
"We use 100 percent recycled, pre-consumer polymeric resin materials in all our Millenia wall products," said Paul Forsberg, president, Millenia Wall Solutions. "These materials are inert and do not interact with the soil, and our products themselves are recyclable. In addition, because they are lightweight, it takes far less energy to transport Millenia wall units."
An independent Life Cycle Assessment (LCA) of Millenia products established that when used instead of concrete blocks, Millenia polymer wall units provide a 55 percent reduction in overall environmental impact, including a 65 percent reduction in greenhouse gas emissions. Based on the Leadership in Energy and Environmental Design (LEED) Green Building Rating System, developed by the U.S. Green Building Council, using Millenia walls units in construction applications can earn up to eight LEED credit points in at least two categories: Sustainable Sites and Material & Resources.
According to McGraw-Hill Construction Analytics, the value of green building construction starts will grow to $60 billion by 2010. Green homebuilding is projected to account for one-third of that total. With ever greater environmental awareness, more and more real estate developers and homebuilders, landscape architects and contractors, and homeowners support green and sustainable building practices. Millenia Wall Solutions offers them an earth-friendly alternative for retaining walls.
Approximately 500 million concrete blocks are sold annually for segmental retaining walls (SRWs) in North America. Cement is the core ingredient in concrete. The production of cement is energy-intensive and releases vast amounts of carbon dioxide, the primary cause global warming. In fact, the world's cement plants generate five percent of all global emissions of carbon dioxide. As reported in the New York Times, cement manufacturers are investing in cleaner production processes, but the greenest technologies can only reduce cement plants' greenhouse gas emissions by about 20 percent. Even with the best possible improvements, each ton of cement produced in 2010 will still generate more than 600 pounds of carbon dioxide.
Worldwide demand for cement and concrete products continues to rise, particularly in fast-growing emerging economies. Thus, to contend with climate change, it is imperative to develop and adopt green alternatives. The Millenia retaining wall system is the earth-smart solution for retaining walls.
About Millenia Wall Solutions
Headquartered in Minneapolis, Minn., Millenia Wall Solutions (http://www.milleniawalls.com) is setting the 21st century standard for the construction of segmental retaining walls by advancing the most significant innovation in the industry since the 1980s. Lead by industry experts Paul Forsberg and Robert J. Race, Millenia is introducing an inventive, high-tech alternative to concrete blocks. Millenia is a member of the U.S. Green Building Council, and our retaining walls are eco-friendly and offer incomparable beauty, strength, stability and durability -- achieved with lightweight, recycled polymeric resin materials that contractors can install easily, quickly and with less labor. The weight is over. Ready to build intelligently? Check out the Millenia Project Video and then give us a call at 1.866.549.WALLS (9255).
Notes to Editors:
(1) Millenia Wall Solutions is located at booth G608 at the National Green Building Conference; (2) Millenia will also exhibit at PCBC 2008, home building's premier tradeshow and conference, June 24-27, 2008 at the Moscone Center, San Francisco, Calif. Millenia will be at booth 6602; (3) Millenia maintains an online newsroom for the convenience of the media. The Millenia Project Video on the company's Web site provides a helpful orientation to the features and benefits of the Millenia retaining wall system; (4) High-resolution illustrations of Millenia's technology and images of walls completed with the Millenia system are available to members of the media upon request; and (5) Paul Forsberg and Robert J. Race, P.E. of Millenia Wall Solutions are available for interviews.
###