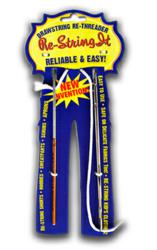 Re-String It was named one of the top gifts under $30 in the November 2012 issue of Runner's World
(PRWEB) December 21, 2012
CWA Enterprises is excited about this upcoming holiday as they look forward to having a blockbuster season of sales for their award-winning product Re-String It, the universal rethreading tool. Originally design to re-string the drawstring if it comes out of sweatpants or hoodies, Re-String It has proven itself useful for many other tasks, making it an idea Christmas gift.
Re-String It was also named one of the top gifts under $30 by Runner's World in the November 2012 issue, giving it the ringing endorsements that athletes everywhere will love to hear. "Not only is Re-String It durable and affordable, but its size is perfect for sliding into a stocking," says Chad Archibeck, inventor of Re-String It. "And because this product is so new, no one will be able to guess what's inside."
Video streaming site Howcast published tips for picking stocking stuffers that will put Santa to shame. One of their tips is to choose an item based on its utility, something that will have more than one use. This functionality is exactly what Re-String It offers.
"Re-string It is an all-in-one device with an adjustable loop that will hold any type of string without fraying or tearing into delicate material. There are no accessories needed and it is going to make for a great top holiday stocking stuffer this year," says Chad.
Another feature that makes for a great stocking stuffer this year is price. With many personal budgets staying conservative, there's good reason to pay less than $25 for a supplemental gift. On top of being reasonably priced, Re-String It is offering its Facebook fans an exclusive offer while it lasts. Users simply have to Like their Facebook page to access more information. Several of the stocking stuffer suggestions from various media outlets this year offer up presents in the $10 to $30, and this fits right inside that price bracket.
Re-String It is not just a holiday item, either. This universal re-threading tool will save people time (from having to use a safety pin) and money (from have to buy new sweatpants or hoodies). Having the drawstring come out of a hooded sweatshirt is such an agonizing problem, that there's even an unmaintained Facebook page dedicated to it with 59 Likes.
Re-threading a garment's string is also a popular discussion on Askville.Amazon.com and Wikihow.com. With so many people searching for a solution to a lost drawstring dilemma, giving the gift of Re-String It this year would be a thoughtful and helpful idea.
The heavy duty, yet ultra-slim clothing repair tool uses a 4-millimeter tube with an 18-gauge wire to loop drawstrings back through sweatpants and sweatshirts, as well as industrial laundry bags and medical scrubs. With Re-String It, consumers have a reliable and easy way to mend the drawstrings of their favorite clothing items.
Re-String It is available for purchase on their website and on Amazon.com. More crafty ideas are shared with their fans who Like them on Facebook.
About the Company:
Re-String It is a product of CWA Enterprises, which was created to bring the perfect must-have domestic tool to market. Re-String It is a heavy duty, versatile re-stringer that is easy to use and won't damage clothing. The rounded edge on the adjustable loop enables use on delicate materials. Visit http://www.re-stringit.com for more information.