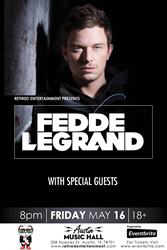 Fedde Le Grand is an absolute legend
Austin, TX (PRWEB) April 24, 2014
Retired Entertainment is excited to announce that Fedde Le Grand, House DJ of the Year, will be headlining a concert at Austin Music Hall on Friday May 16th, 2014.
"Fedde is an absolute legend," said Retired Entertainment co-founder Sam Schwartz. "We are committed to bringing top talent to Austin and we were incredibly excited when Fedde signed on."
Enjoying artistic freedom afforded only an elite few, Fedde Le Grand is a masterful pioneer of electronica, considered by countless fans and artists as one of the single most defining figures in house music. Whether as DJ or producer, Fedde's influence can be felt throughout the electronic landscape; his creative beats, grooves, melodies and rhythms surround us.
Not only indulging in his own perfectionist musical tendencies, Fedde also nurtures new talent through his Flamingo imprint, using his years of hard-earned experience to push them towards superstardom.
Retired Entertainment is also bringing Bassjackers and Sultan & Ned Shepard to Austin.
"We really want to focus on providing EDM fans with a great concert experience," said Retired Entertainment co-founder Zach Scarborough. "That almost always starts with booking incredible talent."
Forbes recently described EDM as "one of the most popular music / fastest growing music genres in the world, particularly among the millennial generation."
"Given that Austin dubs itself the live music capital of the world, its kind of odd that we've only seen a limited number of high profile EDM acts in the area" said Retired Entertainment co-founder Jake Shifrin. "That's a situation we hope to rectify soon."
Retired Entertainment partnered with DropShades Eyewear to sponsor the event. DropShades got it's start as the largest Kickstarter campaign in Fort Worth, TX history raising 520% over their goal. They make audio responsive glasses that light up and down to the beat of the music, a huge hit with EDM fans.
"Partnering with Retired Entertainment to bring top notch EDM talent to Austin was a no-brainer. We we're happy to be apart of such an amazing experience," said DropShades co-founder Harrison Herndon.
DropShades will be debuting its new line of Pink DropShades at the May Concert. Fans interested in getting a hold of one of the new pink shades will have the option to pre-order them on Eventbrite after they purchase their ticket.
The event will be held at Austin Music Hall on May 16th.
Tickets are available for purchase at Eventbrite. Click here to purchase tickets.