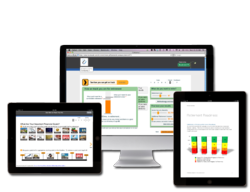 "The way plan education is currently done- it's a recipe for failure," said Matt Iverson, a director at Boulevard R.
SAN FRANCISCO, Calif. (PRWEB) November 14, 2012
"The way plan education is currently done- it's a recipe for failure," said Matt Iverson, a director at Boulevard R. "You combine brochures that employees don't read, with provider tools they don't use and then present it in a format that puts them to sleep."
To address these shortcomings, Boulevard R worked with leading behavioral economist and NY Times bestselling author, Dan Ariely, to redesign plan education. What they came up with was the new holistic education program, Retiremap, which uses iPads in onsite workshops to engage up to 500 employees in a single day. A short video overview Retiremap is available here: http://www.RetiremapHQ.com/how/overview
Engagement Linked to Behavior Change
"We quickly realized that the traditional focus on retirement doesn't resonate with most employees, so we created an interactive process that first engages them around their top-of-mind financial goals, such as saving for college, investing better or paying down debt," said Iverson. "To boost retirement readiness and nudge them to save more, an employee's financial assessment is linked to the next step in the process- increasing their automatic deferral rate."
While Retiremap has an online component that uses email activation links, the delivery model with the greatest impact is the employer-branded iPad app, which is used in 30 minute onsite workshops. "We can put an iPad in every employees' hands and deliver more educational value in 10 minutes than the typical group presentation does in 60 minutes," said Iverson. "On top of that, iPad workshops are more engaging and cost less per employee than sending out brochures." The iPad app can also be used for enrolling employees in the plan.
In addition to the financial assessment employees receive, they also get a holistic, employer-branded Starter Roadmap, which is like a mini financial plan. A limited version of Retiremap has been used by the Financial Planning Association® to educate consumers.
Measuring and Scaling for Impact
To help employers measure and document the impact of plan education, Retiremap provides plan sponsors with a Performance Report that measures usage, retirement readiness, behavior change and top financial goals.
This data can be used to scale Retiremap from plan education using iPads to a full financial wellness program for employees, that includes a financial hotline, personalized investment advice or one-on-one meetings with independent financial advisors.
"Retiremap is a key part of our corporate financial wellness program. I love that it is independent and engages employees, while helping them get on track for a secure retirement," said David Roberts, benefits manager at Intersil Corporation. "Additionally, Retiremap's reporting features measure all of the program's key metrics, which helps us understand how we're moving the needle."
Retiremap helps employers save money by reducing the number of employees who have to delay retirement because they haven't saved enough. Experts estimate that older workers who delay retirement cost employers between $10,000 and $50,000 in health care and higher salaries for every year they delay. Additionally, financial education can save as much as $2,000 per employee annually through increased productivity and reduced healthcare costs, according to the Personal Finance Employee Education Foundation.
Independent and Optimized for Advisor Impact
"Some employers, particularly at the mid-sized and large plan level, perceive a bias among providers to steer employees toward their funds and rollover solutions," Iverson said. "By offering an independent solution with no investment agenda, Retiremap improves employee satisfaction in their benefits package by branding the program for the employer."
Retiremap program is built with independent advisors in mind. Every plan has a management interface that helps the advisor monitor individual employees' progress and access profile information prior to meetings.
"Retiremap allows me to have a greater impact in less time when we meet individually with employees," said Jason Chepenik, partner at Chepenik Financial and a 2012 top 10 Large Plan Advisors of the Year according to 401kWire. "Providers talk a lot about how advisors are the key to improving employee outcomes, but Retiremap is the first platform that gives the advisor a role, as well as the tools to be more effective."
To help human resources professionals better understand how plan education can be designed for successful outcomes, Boulevard R and Retirement Playbook will be hosting a webinar, "Retirement Readiness: Designing an Impactful Program" on Wednesday, December 5 at 2pm ET. To register for the webinar, visit: https://www2.gotomeeting.com/register/330957530