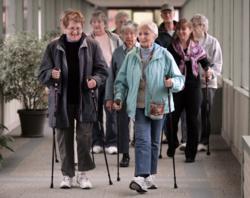 Our residents are having a great time. They're learning that all kinds of activities can contribute to better health. — Stacey Judge, Community Wellness Program Director for Springpoint Senior Living
Princeton, NJ (PRWEB) June 13, 2013
At Springpoint Senior Living communities across New Jersey, hundreds of residents have set out on a journey across America. As they travel from coast to coast, they're stopping to celebrate landmarks, cheering each other on and enjoying an engaging new path to health and fitness.
Called "Exercise Across America," the virtual journey is a way for residents at Springpoint continuing care retirement communities in New Jersey to measure and track their exercise and activity levels. One minute of activity equals one mile, with each resident's progress marked on a large map of the United States.
"Our residents are having a great time with this," said Stacey Judge, Community Wellness Program Director for Springpoint Senior Living. "They're learning that all kinds of activities can contribute to better health."
Exercising Across America can mean taking an aqua aerobics class, strength-training in the fitness center, taking a walk outdoors or even participating in an Easter egg hunt. Residents are responding with enthusiasm.
"It gives them encouragement to try new things," said Jodee Garrity, Fitness Manager at Crestwood Manor in Whiting, NJ. "I have people who have never been to the pool before. Now they're coming to my aqua classes. I have people trying out my seated aerobics classes. They're having fun. Some are even getting a little competitive."
More than just improved physical fitness, the program has brought other benefits as well. Residents enjoy the opportunity to reminisce about real-life journeys they have taken. They chat with one another about family vacations and places they have been.
To keep the program fun and motivating, some Springpoint buildings have planned events to coincide with progress on the Exercise Across America map. That might mean a presentation about the Grand Canyon, a country and western party or a Tex-Mex themed meal in the dining room.
Exercise Across America is an offshoot of a broader wellness and healthy aging initiative at Springpoint. Called LivWell, the program seeks to engage the whole person — mind body and spirit by encouraging residents to take part in a variety of life-enhancing experiences. This might mean enjoying musical or dramatic performances, attending on-site lectures, participating in art or yoga classes and more.
About Springpoint Senior Living:
Springpoint Senior Living is New Jersey's leading provider of not-for-profit senior housing and services. The Springpoint continuum includes continuing care retirement and affordable housing communities. For more information, please visit http://www.springpointsl.org.