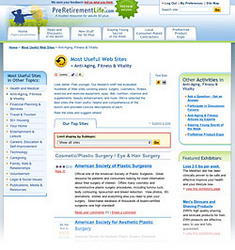 Our directory is a great starting point for people because we've actually assessed each site, so you don't have to look at dozens or hundreds of sites you might find in a typical Google search
New York (PRWEB) May 28, 2008
PreRetirementLife has announced its new 2008 online Directory of the 500 "most useful" web sites for helping adults aged 50-64 meet the challenges and opportunities of their life stage.
The sites are organized and described in 14 topic areas including Health & Medical and Anti-Aging to Financial Planning, Travel, Entertainment and Caregiving. Each web site that was selected as a Most Useful Site is receiving an award emblem it can display on its pages.
Visitors to PreRetirementLife.com can submit their own ratings for each site and suggest others for inclusion.
"It can be difficult to find the really best sites to begin research on an important issue," said Andrew P. Garvin, CEO of PreRetirementLife. "Our researchers spent months studying thousands of sites, weighing them according to our ranking formula, and finally selecting those with the most useful, comprehensive and impartial information. Then we wrote concise descriptions of what can be found in each site."
Mr. Garvin emphasized that no site paid to be included and, with a few exceptions, sites of individual companies promoting their products were excluded.
To view the 500 selections, users can go to the Most Useful Sites directory and select a topic and view listings organized into key sub-topics.
"For example, assume you are interested in finding a new career after 50," said Mr. Garvin. "You can go to our 'Careers, Education and Self Improvement' topic, select the 'New Careers/Second Careers' category and find our descriptions of useful sites like Seniors4Hire.com, Workforce50.com, SeniorJobBank.com, Retireeworkforce.com and more."
PreRetirementLife.com also features a site search box where users can enter any term of interest and immediately see results that show which of the "Most Useful" sites cover it.
"Our directory is a great starting point for people because we've actually assessed each site, so you don't have to look at dozens or hundreds of sites you might find in a typical Google search," said Mr. Garvin. "And we've done it specifically with the interests of the 50-64 year-old in mind."
Mr. Garvin said the directory includes descriptions of well known sites like Bankrate.com, StubHub.com and WebMD.com, as well as many less familiar sites like Wheretoliveafter50.com, Benefitscheckup.org, Newbeauty.com, Newretirement.com, 50plusexpeditions.com and Emptynestmoms.com. Also included are many valuable government sites like the National Institutes of Health.
For additional information on Boomer Retirement and Pre-Retirement, contact
Andrew Garvin or visit PreRetirementLife.com.
About PreRetirementLife.com:
PreRetirementLife.com, the Web's premier online guide for adults ages 50 to 64, is being developed with input from distinguished experts in business, research, media, and internet marketing, as well as from members of the baby boomer generation. To learn more about this exciting new life stage, preview exclusive monthly deals and discounts and access weekly secrets to staying young, visit http://www.PreRetirementLife.com.
Contact:
Andrew Garvin, CEO
PreRetirementLife.com
(212) 463-6200
http://www.PreRetirementLife.com
###