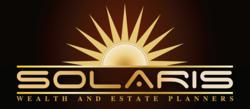 Latest Retirement Educational Website called "Retirement 123"
Cary, North Carolina (PRWEB) March 10, 2012
Kyle Hoffman, President of Solaris Wealth and Estate Planners, announced his company's latest retirement and financial educational website for Cary, North Carolina consumers. The "Retirement123" website contains retirement news feeds that are updated daily along with financial calculators, a tax center, and retirement white papers. All of the content is free and downloadable without requesting any information of the consumer.
There will be approximately 10,000 baby boomers retiring each day for the next decade that will be seeking financial education they can trust. Furthermore, due to the small proportion of baby boomers that will benefit from pensions like their parents, the need for lifetime income guarantees will be crucial. Solaris Wealth's joint venture with Annuity Think Tank aims to be the one stop shop for financial and retirement education for Cary, North Carolina and the surrounding areas. The website, http://www.retirement123.org, will feature updated retirement education every business day.
About Solaris Wealth and Kyle Hoffman
Solaris Wealth and Estate Planners provide financial services to both individuals and businesses. We give the same attention to all clients, no matter how large or small.
The estate planning, financial planning, and other financial services we provide are tailored to the unique needs of each client. Our firm remains on the cutting edge of financial trends. We are well-informed and continually adapt to the ever-changing world of financial services and estate planning.
With over 14 years experience within the investments industry, SOLARIS offers uncompromising ethics that instills confidence and trust. We use cutting edge technologies to ensure up to the minute information from the financial world. This allows us to respond quickly, and give you the most relevant information and perspectives.
About Annuity Think Tank
Annuity Think Tank's vision is to be the first place advisors and consumers come to for innovative annuity solutions, unbiased annuity education, annuity research, and the most comprehensive annuity information on the web. Advisors and financial professionals, please visit our site designed for you at Annuitythinktank.com. For further questions contact us toll free at (855)888-6494 or email us at info(at)annuitythinktank.com. We appreciate any and all feedback including new video ideas, blogs, and annuity concepts.