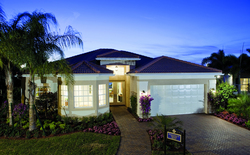 Boyton Beach, FL (PRWEB) December 4, 2009
Home sales in the communities of Valencia Pointe and Valencia Reserve in Boynton Beach, Florida show no signs of slowing as active adults continue to be attracted to value, price and retirement living. Builder G.L. Homes has only 26 homesites remaining in Valencia Pointe with more than 100 homes already sold this year in the new Valencia Reserve.
The sales staff at the Valencia communities sees an increase in buyers from three market segments. First there are the active adults coming in from out of state who want to purchase a home in Florida for retirement, but only if the price and product is right. Then there are residents of country club communities in Boca Raton who want to downsize and find that Valencia Pointe or Valencia Reserve meets their changing lifestyle needs for Florida retirement living. Finally, there are those buyers who were previously priced out of the market, but lower prices and lower mortgage rates make homebuying affordable now.
For homebuyers who want to get in on the ground floor there is Valencia Reserve which offers three collections and 16 unique floorplans. Homes range in size from 1,303 to 2,861 air-conditioned square feet of living space and feature two to four bedrooms, two to three bathrooms, and a two- or three-car garage. They are priced from the mid $200,000s to more than $500,000.
At Valencia Pointe, homebuyers will find a more mature active adult retirement community with only 26 homes remaining. Ranging in size from 1,730 to 2,396 air-conditioned square feet of living space, the homes offer two to three bedrooms, two to two-and-a-half bathrooms and a two-car garage and are priced at an incredible new home value in the mid $300,000s.
Valencia communities invite ample opportunities for active adults living in retirement to socialize and form lifelong friendships. The centerpiece of Valencia Pointe and soon to be at Valencia Reserve is the magnificent clubhouse with a multitude of rooms for classes and clubs. Also impressive at the clubhouse is the grand ballroom that hosts Broadway style performances and special galas. There is a fully equipped fitness center offering classes, modern cardiovascular and conditioning machines and personal trainers.
For sales information, call 561-738-5100 or visit GLHOMES.com.
###