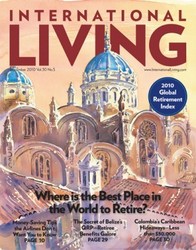 On this year's Annual Retirement Index, the world's top five retirement havens are Ecuador, Panama, Mexico, France and Italy.
Baltimore, MD (Vocus) September 1, 2010
What is the country where U.S. retirees can live cheaper, longer, and happier than anywhere else on earth?
Not the U.S. – not by a long shot.
That's the conclusion of the InternationalLiving.com Annual Retirement Index for 2010, just published in the September issue of International Living magazine.
Out of 25 countries rated in eight economic, health, and lifestyle categories, the U.S. came in at #15.
What's the top country for retirees according to InternationalLiving.com?
"Ecuador is simply the world's most affordable retirement haven," says Eoin Bassett, editor of International Living magazine. "In Ecuador, there's something for everyone… beaches, rural highlands, jungle escapes, colonial cities. You can find a four-course lunch for $2. A taxi ride in the capital, Quito, costs $1. You can stay in a nice hotel for less than $20 or get a 30-minute massage for $15. A doctor's visit costs $10, and you can hire someone to clean your house for $5."
In addition, says Bassett, Ecuador offers the best-value real estate in Latin America. "You can find a brand-new two-bedroom, two-bath condo—with city or ocean views—for less than $50,000. A hacienda-style home in the mountains lists for $90,000. A high-end home with floor- to-ceiling windows on two acres of hilltop overlooking the Pacific Ocean goes for $83,000."
But as hundreds of North American expats in Ecuador have found, the real draw is the climate. The beaches are tropical, but in the Andes Mountains, the weather is mild and spring-like. And because Ecuador lies on the equator, the weather is constant year around. In Ecuador you chose your ideal climate simply by choosing your elevation.
In addition to the ideal weather and low cost of living, Ecuador also offers top-notch, low-cost health care and some other appealing benefits for retirees, including half-price airfares and other transportation costs, and big discounts on a variety of other expenses like taxes, utilities, and entertainment.
All these qualities combined to earn Ecuador the #1 spot on InternationalLiving.com's 2010 Annual Retirement Index.
The United States moved up seven spots on the 2010 Index, reaching #15 for 2010 from a ranking of #22 last year. Total score for the U.S. was hurt by relatively high cost of living, high health care costs, and high carrying costs for real estate such as taxes and insurance.
Bassett says that to determine the index rankings, data is analyzed in eight categories that include real estate, special retiree benefits, cost of living, culture, health care, infrastructure, safety and stability, and climate.
"Then we run the results past our in-country experts for their judgments based on their first-hand experience," says Bassett. "So it's not a purely by-the-numbers, scientific call… it's more nuanced. We've crunched the numbers, but we've also made adjustments based on what we know to be the reality on the ground."
"No place gets a perfect score," says Bassett. "Every place has pros and cons, pockets where living is easier, or cheaper, than another. But all of the countries in our Index have something to offer. Even if they score poorly in a specific category, they're still the best places in the world to retire that we've found."
The countries that beat the U.S. as best places to retire, with possible points out of 100, are:
1. Ecuador - 81
2. Panama - 80
3. Mexico - 79
4. France - 78
5. Italy - 78
6. Uruguay - 77
7. Malta - 76
8. Chile - 76
9. Spain - 75
10. Costa Rica – 75
11. Brazil - 74
12. Argentina - 74
13. Columbia - 73
14. New Zealand – 73
This is the 18th year that InternationalLiving.com, founded in 1981, has compiled its Annual Retirement Index. For the complete 2010 Annual Retirement Index, go to http://internationalliving.com/2010/08/retirement-index-2010.
For more information:
Dan Prescher
dprescher(at)internationalliving(dot)com
+1 (402) 403-1941
# # #