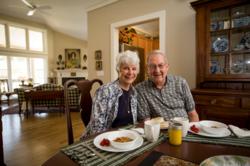 "We can live free from the hassles of chores so we can spend more time with friends and family," says Jerry Palmer.
Chesterfield, MO (PRWEB) July 16, 2012
For the Palmers, living in their own home at the Villas on Willow Breeze Court lets them choose the lifestyle options to "age in place" their way.
"We wanted to feel more independent but we realized we wanted to be part of all the services we would need in the years ahead, so we listened to our heart and our head," said Jerry Palmer, who moved into the Villas at the end of October, with his wife, Sue.
When older adults decide to downsize, condos can be a great option. But in St. Louis, condos can be doubled-edged sword, with a poor resale value and an overall difficult resale process.
Recent data shows that since St. Louis has a smaller percentage of buyers looking for condos than homes, condo owners are likely to be unsuccessful when attempting to resell in a saturated condo market, primed for aggressive and competitive prices.
As home-buying season is in full swing this summer, those looking for the most value for their retirement lifestyle are choosing The Villas at Willow Breeze Court, an example of how retirement villas can be a meaningful option with more financial security.
The Willows is seeing increased demand for retirement villas with services that encourage wellness, security, reduced stress and fun for like-minded people with the same income, lifestyle and age range, while a standalone home provides only shelter.
"We limited construction to 14 villas and there are only five villas left now," said Marketing Representative Kim Fons. "For the remaining five we're offering some great incentives, so not only can you still customize your home, but you can personalize your home even further."
Now through the end of August, those who purchase one of the five remaining villas will be eligible for $25,000 in free upgrades, and we say additional because granite countertops, stainless steel appliances, oversized 2-car garage, are just a few of the features already included, according to Fons. "Take advantage of this wonderful incentive now because it will not last."
Part of a Continuing Care Retirement Community, these Villa homes are adjacent to the Willows´ apartment homes and the new 130-seat theatre, art gallery, restaurant, billiard/card room and art studio of Centerstage. Apartments start at $300,000.
The Villas assure homeowners peace of mind knowing that their future is secure, no matter how their needs change. The Villas are near the continuum of care services at Brooking Park, where all levels of care are offered, including Medicare Rehabilitation.
Designed for the comforts of "aging in place" – with wider doorways and hallways, higher countertops, lever door handles, and maintenance-free living inside and outside, Mr. Palmer recognizes the value.
"We can live free from the hassles of chores so we can spend more time with friends and family," said Palmer.
The Villas are hosting an Open House on July 22 from 1 p.m. to 4 p.m.
For more on The Willows at Brooking Park, sponsored by St. Andrew's Resources for Seniors, visit http://www.NewWillows.com or call 314-576-0800.