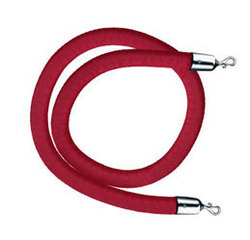 Brooklyn, NY (PRWEB) September 27, 2010
No one likes to sit or stand in line; it makes them feel anxious, frustrated and unimportant. While many places forget how to manage this stressful time for a buyer, the professionals at Crowd Control Direct have developed barrier systems to manage lines and waiting periods to generate customer satisfaction.
With their selection of retractable belt barriers, posts, post signs, stanchions, sign stands, and wall mounted barriers, Crowd Control Direct can help you direct the flow of traffic in to and out of your establishment. Rather than having line-ups out the door, the use of belt barriers can help you steer people into a controlled environment where you can engage them with personal service. In this environment, you can recognize your client, determine their needs and re-assure them that you are working to resolve their reason for their visit.
This makes your client feel secure, safe, and important, all of which are important components of your business service.
Restaurants especially need to remember that they should not wait to give their customers good service. Through the use of a literature folder which contains copies of the restaurant menu, they can welcome guests to the establishment and then give them a menu to peruse while they wait. By doing this, the restaurant has already begun to serve their customer and build customer satisfaction.
In retail establishments, where line ups can happen any time of year, it is important to make the line up and waiting period as short and as distracting as possible in order to alleviate buyer anxiety. By adding a set of merchandising bowls to existing Beltrac retractable belt barriers and posts, you can place many "last minute" buys close to the cash register, thereby increasing your profitability with items that people often forget or need to purchase in their anxiety to get it all done at once.
For more information about Crowd Control Direct and their solutions to improve customer satisfaction and your profitability, please contact http://www.crowdcontroldirect.com or call Bill Davis toll-free at (877) 400-0777
Crowd Control Direct Inc. "Because lines happen"
###