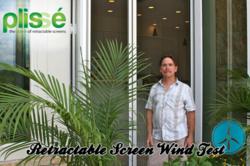 "We were confident our Plissé retractable screen would easily out perform the traditional, coiling retractable screens," says Douglas Bennett, Screen Solutions owner.
Austin, TX (PRWEB) June 28, 2013
A new test by Screen Solutions, the maker of the Plissé (pleated European style) retractable screen for doors and windows, reveals their screen to withstand far greater wind speeds than their competition.
The test was conducted with an anemometer, a device for measuring wind speed, and an industrial size fan. Screen Solutions filmed the experiment to help retractable screen consumers see first-hand the significant quality difference possible among currently available retractable screen designs.
Screen Solutions' experiment revealed that while their Plissé retractable screen easily withstood wind speeds of more than 13 m.p.h. with little visible effect on the fabric at all, the Mirage retractable screen's fabric blew out of the rails, and often blew the screens open all together, at wind speeds of only 10 m.p.h.
"We take great pride in providing our customers with the best possible design, product and service - this test is just another way for us to further demonstrate to our customers our dedication to this mission," says Douglas J. Bennett, owner of Screen Solutions Inc and design master mind behind the patent-pending Plissé retractable screen design.
Bennett is known online as "Doug the Screen Guy," where he publishes a popular blog by the same moniker and answers questions about planning for, measuring for and installing retractable screens. He is also the star of the growing catalog of Plissé retractable screen how-to videos.
Screen Solutions conducted a similar test in 2006 with about the same results, that test and those details can be viewed on the Plissé retractable screen website here.
To learn more about the European styling of the Plissé retractable screen by Screen Solutions visit them online at http://www.PlisseScreen.com or call them toll free at 866-571-8870.