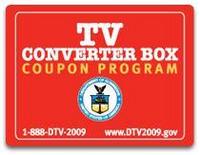 This is the biggest change to standard TV signals since color TVs were introduced over 50 years ago.
Sunnyvale, CA (PRWEB) February 15, 2008
Will consumers need to replace their TVs in 2009 or will they be able to use a government issued coupon to purchase a digital TV converter box? Retrevo.com, the leading web site for consumer electronics information, announces a special report covering the upcoming digital TV conversion.
Andrew Eisner, director of content at Retrevo, says, "Just about one year from now on February 17, 2009 analog TV signals will be turned off and only digital TV signals will be transmitted over the air." Eisner added, "This is the biggest change to standard TV signals since color TVs were introduced over 50 years ago." What does this mean for consumers?
Retrevo, the fast growing web site specializing in consumer electronics products like LCD TV Reviews, Plasma TVs, GPS, Digital Camera Reviews and DVD Players, offers a report on what consumers need to know about the conversion to digital TVs.
Retrevo analyzes LCD TV user reviews, expert reviews, HDTV features, and the latest prices to come up with a list of recommendations. Retrevo's analysis included Toshiba TV reviews, Syntax Olevia reviews and Samsung LCD TV reviews.
On February 17, 2009, analog signals will not be available over the air and all tuners getting signals over the air will need to be ATSC tuners which accept digital signals. TVs can receive digital signals over the air, often using the same external antennas, but they'll need to have an ATSC digital tuner in order to hear or see anything.
Cable-based systems should not be affected since cable companies should continue to offer analog signals for most basic cable channels. Satellite systems already transmit digital signals and should not be affected either by the switchover.
If consumers happen to have a TV or device with an analog tuner they'll have two choices. They can buy a converter box and possibly use a government issued coupon to get a discount or they can replace the old analog-based TV with a brand new digital one.
Converter Boxes
A digital TV converter box will most likely be the cheapest solution, especially if consumers use a $40 coupon for a $60 converter box, however, it could make for a few hassles. Some DTV converter boxes are already available, like the Insignia Digital to Analog Converter Box, which costs around $60. The recently announced EchoStar TR-40 which is expected to sell for $39.99. Expect to see a much wider selection as the months go by.
The federal government is offering $40 coupons that consumers can use on a basic converter box. Consumers can request up to two coupons per household now through March 31, 2009 . Remember the coupons are only good for 90 days so make sure there is something available to purchase before requesting a coupon. DVRs or DVD Recorders come with digital tuners and are reasonably priced, but are not eligible for the government coupons.
Retrevo recommends consumers use this opportunity to buy a new TV. Unfortunately you won't get the $40 government subsidy and you may have to pay $10 to recycle the old TV but you should be able to get a more energy efficient flat screen TV and move up to HDTV for under $500.
Good Values in LCD TVs
This may also be a perfect time for consumers to trade in their out-dated TVs or VCRs. Retrevo is constantly scanning the latest products, features, ratings and prices and has recommendation for the best values in LCD TVS and DVD recorders from manufacturers like Syntax Olevia, Panasonic, Sharp and Toshiba.
The Syntax Olevia 527V can be purchased for just a shade over $500 but it offers 720p HDTV in a big 27 inch LCD TV. The Samsung LN-S1951W is a 19 inch LCD TV that gets good user ratings and costs around $400. The Toshiba 20HL67 is a 20 inch HDTV that gets good reviews and will cost you around $450. The Sharp AQUOS LC-19DV22U is a 720p LCD HDTV that you can buy for under $500.
Retrevo Can Help Determine If a TV Set is Digital
Looking at a manual can be the fastest way to see if a set has a digital tuner however, manuals are easy to misplace. Retrevo has manuals for most popular TV sets going back many years. Retrevo can be used to help find out if an old TV is digital or analog. Use the Retrevo search box to enter a make and model number along with either the word 'manual, ATSC, QAM, or digital channels.' Users can also browse for a manual on Retrevo.
About Retrevo
Retrevo is a matchmaking site matching people and electronics. For more information on buying and using HDTV products check out Retrevo's HDTV Product Advisor. Retrevo has manuals and reviews for all the latest HDTV products.
# # #