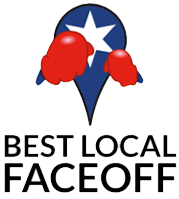 We hope to show people that there are effective ways to lose weight and keep it off, even for busy professionals on the go," said Jeff Hyman, founder and CEO of Retrofit. "The key to long-term results is changing your mindset and habits....
Chicago, IL (PRWEB) May 30, 2013
Retrofit, the weight loss program for professionals, announces the company is competing in a month-long social media contest which allows Facebook fans to engage and support businesses headquartered in Chicago.
The efforts are presented by award-winning Chicago-based corporate housing provider, Habitat Corporate Suites Network (HCSN), which started Best Local Faceoff in efforts to increase engagement with Facebook fans and encourage the support of businesses located near its 38 Chicago-area corporate housing locations.
May 29 through June 19.
The first Faceoff will run from May 29 through June 19. Two Chicago weight loss and healthy living programs – Retrofit Weight Loss and Revolution Weight Loss Centers – will go head-to-head in the first competition.
Retrofit, which delivers weight loss for busy professionals by employing a unique and high-tech approach, will rally its social media following to gain the most votes. Videos promoting the Faceoff will be hosted by Chicago-based nationally recognized, healthy lifestyle expert Andrea Metcalf.
Facebook fans will learn about the companies competing in the Best Local Faceoff contest. These fans will vote for which company they consider the best contestant through the Faceoff Facebook app, which will live on HCSN's Facebook page. The contestant with the most votes will reign as Chicago's Best Local weight loss program.
Faceoff voters will receive exclusive deals from the participating businesses just for casting their votes. Retrofit is rewarding its supporters with a $500 discount through June 30 when they sign up for the Retrofit program, which includes private lessons with an expert weight loss team, a wireless activity tracker and a WiFi body composition scale. Revolution is offering its supporters free, comprehensive diagnostic testing that measures health and fitness levels.
Metcalf is excited to present two innovative weight loss programs that focus on individual weight loss goals and healthy, long-term behavioral changes.
"I was very touched by the before and after stories from the clients of both companies," said Metcalf. "It's important for people who struggle with maintaining a healthy lifestyle to know that small, gradual changes can have a huge impact on your life. That's exactly what these programs promote."
Retrofit and competitors see the Faceoff as an opportunity to increase awareness about safe and permanent weight loss solutions.
"More than anything, we hope to show people that there are effective ways to lose weight and keep it off, even for busy professionals on the go," said Jeff Hyman, founder and CEO of Retrofit. "The key to long-term results is changing your mindset and habits; our team helps people achieve that."
"We understand the difficulty in committing to becoming healthier," said Freddie Wolner, co- founder and executive vice president of Revolution, "which is why we're excited to share our medical approach to designing a program specific to each client's needs and goals through this Faceoff."
This Faceoff will start a series of Best Local Faceoffs involving other Chicago retailers and businesses. This Facebook promotion allows HCSN, an authority in guiding people to the best Chicago retailers, the opportunity to expose its audience to the best shops, restaurants, entertainment and fitness facilities near its Chicagoland corporate apartments. Retrofit has been named one of the "Top 50 "Best Health & Fitness Apps" of the year by TechCrunch.com and has been called the "front-runner in harnessing wireless technology to help its busy clients lose weight" by Fobes.com. Retrofit also made the Techweek100 List of this year's most innovative technology-driven companies based in Chicago.
For information about Retrofit & the Faceoff or interviews with Retrofit CEO Jeff Hyman, please contact Jennifer Zeidler, Retrofit Director of PR & Social Media at jenniferz(at)retrofitme(dot)com or Joanie Faletto at the Capitalist Agency for Habitat Corporate Suites Network at joanie.faletto(at)capitalistagency(dot)com.
About Retrofit
Retrofit, the expert-led, data-driven weight loss program for busy professionals, is designed to deliver lasting results. Its innovative year-long program includes wireless monitoring of a client's weight, activity and sleep, as well as private lessons with a registered dietitian, exercise physiologist and behavior coach. Retrofit has raised $8 million in a Series A financing led by Draper Fisher Jurvetson (DFJ), bringing the total investment in Retrofit to $10.7 million. Retrofit can be found on the Web at RetrofitMe.com and by calling 855-4-RETROFIT. Follow the company on Facebook and Twitter at @retrofitme.
About Habitat Corporate Suites Network
Since 1987, Habitat Corporate Suites Network (HCSN) has offered fully furnished corporate apartments for extended stays in more than 35 locations throughout downtown Chicago and its suburbs. Consistent dedication to excellent customer service has earned the company 11 CAMME (Chicagoland Apartment Marketing and Management Excellence) awards. For more information on HCSN, visit habitatcsn.com, or follow HCSN Facebook and Twitter.