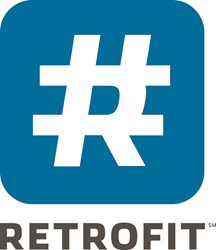 In order for employers to reduce healthcare costs due to obesity and its related diseases, companies simply must have a weight loss program that seamlessly collects and monitors employee data.
-Retrofit CEO Jeff Hyman
Chicago, IL (PRWEB) August 06, 2013
Retrofit clients who completed a 12-month weight loss program lost an average of 19.1 pounds, or 8.3% of their starting body weight, through combined use of activity tracking and weight monitoring, according to company reports. The study also revealed that individuals who weighed in more often, lost more weight.
"This statistical data proves that, in personal wellness, you can manage what you can measure," said Retrofit CEO Jeff Hyman. "In order for employers to reduce healthcare costs due to obesity and its related diseases, companies simply must have a weight loss program that seamlessly collects and monitors employee data."
"Retrofit's analysis shows that clients who weighed in at least five days a week lost an average of 26 pounds or approximately 12% of their starting weight," said Retrofit Research Analyst Buck Hanson, who aggregated data from clients that completed the 12-month Retrofit program. Hanson also found "For each day that clients weighed in, they increased the odds of hitting their target goal by 22%. Additionally, with each day that the included Fitbit activity tracker was worn, clients increased their odds of hitting their target goal by 24%."
The number of weigh-ins per week and activity trackers used days per week is statistically significant for weight loss, according to the Retrofit study. This supports published reports that conclude that data-tracking, combined with support and accountability, is a vital component for meeting weight loss goals. On average, successful Retrofit clients, those who met their goals, weighed in 3.9 days per week.
The Retrofit study accounted for age, BMI, and gender to demonstrate the effect participation has on driving weight loss.
Retrofit Advisory Board Member Brad Saks, Psy.D., said, "Our finding, that clients who weighed themselves the most frequently also lost the greatest amount of weight, has been replicated in a very large and influential set of studies headed in part by Retrofit Scientific Advisory Board member James Hill, Ph.D., from the University of Colorado. Along with Rena Wing, Ph.D., of Brown University, the National Weight Control Registry has tracked over 10,000 individuals who have lost and maintained significant amounts of weight. One of the most robust findings from their research indicates, similar to our most recent findings, that 75% of successful weight losers and maintainers weighed themselves at least once a week.
"Retrofit client data tracked in real-time over a 12-month time period supports this study that illustrates ample evidence for the consistent and significant positive relationship between a self-monitoring diet, physical activity, and successful outcomes related to weight management," Hanson said.
The Retrofit weight loss program leverages the latest in wireless fitness trackers and wi-fi scales to provide data to expert wellness teams, which teach behavior change to both individuals and corporations interested in creating a culture of health and reducing healthcare costs. The combination of technology, accountability and support has proved successful. More than 90% of Retrofit clients are losing weight.
"Corporations face the challenge of accurately collecting, tracking, and analyzing data regarding employee health and wellness," Hyman said. "Retrofit is a game-changer in the corporate weight loss industry. Companies now have an answer for how to measure employee activity and increase productivity in the workplace."
The Retrofit program delivers remarkable results with its 12-month program that includes wireless monitoring of a client's weight, activity and sleep, as well as Private Lessons via Skype video-conferencing with weight loss advisors, including a registered dietitian, exercise physiologist, and behavior coach.
Named one of the Top 50 "Best Health & Fitness Apps" of the year by TechCrunch.com, Retrofit was recently called the "front-runner in harnessing wireless technology to help its busy clients lose weight" by Forbes.com.
Retrofit experts teach clients how to use such innovative health-monitoring tools as the Fitbit activity tracker, Withings wi-fi scale, and Fitbit Aria scale to combat obesity and support long-term behavior change. The private dashboard integrates the real-time data collected from the tracking devices.
"Bringing the power of data to an intractable issue like weight loss is imperative for both individuals and employers. It's our intent to challenge the weight loss industry by delivering long-term results driven through applied technology," said Retrofit Chief Technology Officer Doug Donohoe. "Retrofit has designed a unique dashboard that is leading the health sector in enabling individuals and corporations to adopt healthy behavior change and accurately track and report those results."
Retrofit supports different brands of weight monitoring devices, including the recent addition of the Fitbit Aria scale, which tracks weight, body fat percentage and BMI and syncs that client data with the Retrofit dashboard.
Donohoe said, "As technology advances and clients' needs expand, Retrofit is working to adapt the program. Having access to real-time, accurate weight data is a key component to keeping Retrofit clients accountable and ultimately achieving sustained and meaningful weight loss."
About Retrofit
Retrofit, the expert-led, data-driven weight loss program for busy professionals, is designed to deliver lasting results. Its innovative 12-month program includes wireless monitoring of a client's weight, activity and sleep, as well as Private Lessons with a registered dietitian, exercise physiologist and behavior coach. Retrofit has raised $8 million in a Series A financing led by Draper Fisher Jurvetson (DFJ), bringing the total investment in Retrofit to $10.7 million. Retrofit can be found on the Web at RetrofitMe.com and by calling 855-4-RETROFIT. Follow the company on Facebook and Twitter at @retrofitme.