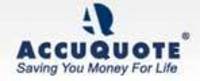 What's the rate of return on the difference in premium?
Wheeling, IL (PRWEB) August 5, 2008
Return of premium term life insurance policies have become a popular choice for consumers over the past few years. The appeal? They offer the same peace of mind that comes with a traditional term life insurance policy, along with a money back guarantee from the life insurance company if the insured outlives the policy. AccuQuote, a leader in providing term life insurance quotes to people across the United States, recommends these tips when comparing a return of premium policy to a traditional term life insurance plan.
1. Determine The Right Amount of Coverage Needed - Before deciding between return of premium and a traditional term life insurance policy, first determine how much coverage is needed. Getting the right amount is more important than getting the right kind of coverage.
2. Understand What Is Affordable - Return of premium is relatively inexpensive, although it costs a bit more than regular term life insurance. On average, 30-year return of premium plans cost about 50% percent more than a regular 30-year term life policy. That difference can vary based on one's age and health. If the return of premium plan is affordable and fits within the family's budget, it might very well be a good deal.
3. Consider All Options - Before deciding what type of coverage to buy, it's important to consider the amount of coverage, length of term life policy and cost. One should make sure their family will be adequately protected for the right period of time. To do this, buy a term length that is long enough so that it won't expire before the need for the protection ends. In some cases, it makes more sense to purchase a traditional term life insurance policy with a larger face amount rather than spending the money to get the return of premium component.
"On average, return of premium products cost more than traditional term life insurance policies, but they offer a guaranteed return," says Byron Udell, founder and CEO of AccuQuote. "However, before you are lured by the appeal of a refund, you should first make sure you purchase an affordable life insurance policy that you won't let lapse in order to makes sure you don't leave your family unprotected," says Udell.
Some people ask, "What's the rate of return on the difference in premium?" Here's an example: A 35-year-old healthy male (non-smoker) will pay about $810 annually for a 30-year $500,000 return of premium term life insurance policy. However, if he outlives his policy, he'll get his entire $24,300 back. With a traditional term life insurance policy, he'll pay about $260 less per year, but to make $24,300 he would need to invest that difference and earn a 6.6 percent return (after income taxes!) for 30 years. In today's world of low interest rates a 6.6% after-tax return may look pretty good.
About AccuQuote
AccuQuote helps consumers find the best values in term life insurance by combining instant online life insurance quotes with the personal service of unbiased life insurance professionals that can help answer questions, identify important issues, and make meaningful recommendations. The company offers consumers an extensive selection of life insurance options, including term life, whole life, and universal life, as well as selected annuities. The website has many handy insurance tools, including a life insurance needs calculator to help you figure out how much to buy, a glossary that explains industry terminology, a collection of articles that cover the basics about life insurance, and a blog which answer many questions about life insurance. For additional information or to get quotes for cheap term life insurance, please call 1-888-314-4455.
###