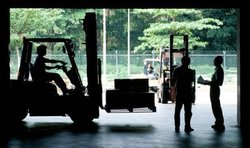 ReturnTrax reports some astonishing results for the Green Returns Program: Waste Diversion increase of 85% ... [and] a 59% increase in returns reclamation value
Toronto, ON (PRWEB) November 19, 2010
Returntrax releases a White Paper and Case Study which examines reducing the environmental impact of returned goods – and maximizing reclamation value.
By their very nature, returned goods are unwanted, and like most unwanted material, are destined for waste. Reducing the environmental impact caused by returns is often considered to be costly, especially when applied to an area of the business already viewed as an afterthought – or a necessary evil. ReturnTrax knows this better than anyone – as Canada's leader in processing returned appliances, they move tens of thousands of appliances annually.
The latest ReturnTrax white paper – Reducing Environmental Impact of Returns examines the major environmental and business issues in handling returns. Potential solutions for each of these issues are studied, with an eye to both environmental and monetary gains. It is the underlying premise of this study that it is possible to significantly reduce environmental impact, while augmenting recovery value of goods.
Accompanying the ReturnTrax White Paper is a detailed Case Study, which follows the progress of an exhaustive 15 month Green Returns Program for the world's largest appliance manufacturer. Data from a 6-month "normalization" period is also included to illustrate that gains are on-going.
ReturnTrax reports some astonishing results for the Green Returns Program: Waste Diversion increase of 85% (y.o.y.); elimination of accidental spills and workplace hazards; a 59% y.o.y. increase in returns reclamation value. Full details are available in the white paper Reducing Environmental Impact of Returns, available here: http://www.returntrax.com/
About ReturnTrax:
ReturnTrax is Canada's leading reverse logistics and returns specialist in the appliance sector. With returns centres in Calgary and Toronto, ReturnTrax manages appliance returns processing & data, inventory & shipping, and repair & refurbishment for the leading brands of small and large appliances. ReturnTrax manages a channel of resellers to maximize market demand for returned appliances.
# # #