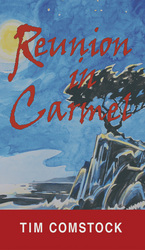 Here's a contrast: Murders, exploding hand grenades and bloody fights to the death set in quaint, touristy Carmel-by-the-Sea
Sacramento, CA (Vocus) November 5, 2010
It isn't a regular occurrence that indie books receive rave reviews in national publications or ever see the shelves of a bookstore like Borders – but Reunion in Carmel isn't your regular mystery novel, either.
"Here's a contrast: Murders, exploding hand grenades and bloody fights to the death set in quaint, touristy Carmel-by-the-Sea," says The Sacramento Bee book critic Allen Pierleoni. He's writing about Tim Comstock's first mystery novel, Reunion in Carmel.
Comstock summarizes his novel in a "meet the author" interview with Michael Panush of Capitol Weekly:
"The quick rundown is a horrible, awful killer appears out of nowhere in Carmel and perpetrates several heinous crimes. Those crimes absolutely overwhelm the Carmel police force, which at the time I set the book, in the early 1990s, was just a small force … pretty used to dealing out parking tickets and getting cats out of trees as their main function.
"The police chief...was a New Jersey narcotics cop and came out to Carmel after he was injured [there]. He found this job, and life was good, everything was perfect...and all of a sudden his entire world is falling apart. The community is threatened, the tourist business is threatened, as the killings get so big, and it's a story of the hunt and the chase to try and bring the killer down."
Robert Walch, book critic for the Salinas Californian, has much praise for Comstock's work.
"Although a bit violent at times, this is a bona fide page-turner with so much action that you'll find it all but impossible to set aside for any period of time." To readers, he says, "Don't be put off by the fact that this book has been released by AuthorHouse. Tim Comstock knows what he is doing, and this is a riveting novel that reads smoothly and quickly. Frankly, I'm a bit surprised the novel was not picked up by a major publisher. It certainly is good enough!"
"The trail twists as the hunter becomes the hunted and the crimes escalate," says the review from independent bookstore The Avid Reader at the Tower in Sacramento. "The clash of the peaceful tourist enclave and the evil of the killer is a perfect backdrop for a story of confrontations."
"As a first-time mystery writer, Tim Comstock has hit a home run," writes reader Jen Richards on http://www.amazon.com. "This compelling thriller is a perfect summer read with well-developed characters and a plot that keeps the reader wondering what will happen next. Hopefully we'll see the main character, Will Kempton, in a sequel – or better yet, on the big screen!"
Reader Jeff Linder writes, "One can almost feel the ever-present marine layer, the mist that lingers on the activities of this varying group of characters, and how in this setting the unspeakable evil of the protagonist perpetrates his vicious need for revenge."
Reunion in Carmel is available in Borders stores in Monterey and Sand City, Calif., as well as online at Amazon.com, BarnesandNoble.com and http://www.reunionincarmel.com.
About the author
Tim Comstock was born and raised in Sacramento, Calif., where he resides today with his wife of 40 years. The couple has two sons and a granddaughter. Comstock graduated from UC Berkeley with a degree in history and went on to attend the UC Davis School of Law. He has worked in the California Dept. of Consumer Affairs, at CSU Sacramento as a law professor and dean of students, and as executive director of the California Dental Association. Reunion in Carmel is his first novel.
AuthorHouse is the premier book publisher for emerging, self-published authors. For more information, please visit http://www.authorhouse.com.
# # #