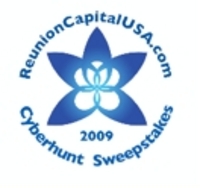 "Highlights of my reunion would be my engagement, the royal service from all the hotel staff, the wonderful people at Prince George's County Conference & Visitors Bureau, the touring agency, and meeting the First Lady."
Prince George's County, MD (PRWEB) December 3, 2009
The Prince George's County Conference & Visitors Bureau (PGCCVB) announces the impending closure of the 2009 Reunion Capital USA Cyberhunt Online Sweepstakes. Persons interested in entering are encouraged to do so before December 31, 2009 when the Sweepstakes officially ends. The Sweepstakes is sponsored by the PGCCVB and its Partners and Sponsors: Six Flags America®, Marriott® Greenbelt, and First Priority Trailways, Inc.
The 2009 Reunion Grand Prize and Previous Grand Prize Winners
Prince George's County is a leader in Reunion planning and assistance for numerous diverse groups including families, military, fraternal, churches, and school reunions. The Sweepstakes started in 2006 with the aim of promoting Reunion Capital USA while also showcasing County businesses and attractions that regularly welcome reunions from across the nation. 2006 Grand Prize Winner Yolawnda Rogers of Cincinnati, Ohio, enjoyed a reunion in Prince George's County with 40 family members and friends, who "all felt like VIP's for the weekend." Yolawnda was at first hesitant to enter since she thought, "nobody wins those things!"
Kendie Reich of Laurel, Maryland won the Grand Prize in 2007. Kendie was surprised since "even after receiving several notifications of her award by email and phone, she still didn't believe she had actually won the grand prize," says J. Matthew Neitzey, Executive Director of Prince George's County, Maryland, Conference & Visitors Bureau.
Why Prince George's?
Prince George's County, Maryland has something to offer everyone year-round. Enjoy the theme-park excitement of Six Flags America®, the thrill of professional and collegiate sports teams including the Washington Redskins and the Maryland Terrapins, and buzzing celebrations and festivals year-round at National Harbor. The County is also home to many historic sites, military memorials, museums, parks, nature centers, backyard barbecues, and neighborhood picnics. The Reunion Capital USA Cyberhunt attracts reunion groups across the USA to enter and gather for their reunion festivities in Prince George's County, and is an exciting online opportunity for all groups to enter for a chance to win a wonderful way to come together, reunite, and be close by our Nation's Capital, Washington, D.C.
How to enter the Sweepstakes
In order to be entered into the Reunion Capital USA Cyberhunt Sweepstakes, participants will need to log in with an email address at ReunionCapitalUSA and will be asked to answer five questions about Prince George's County. Using the provided Cyberlinks each contestant will search for the answers on website pages that contain the Reunion Capital USA symbol. Once all 5 answers are found and the participant has clicked on the symbol, they will be officially eligible to win the Cyberhunt Reunion Sweepstakes. The Grand Prize Winner will receive a reunion package valued over $20,000 for up to 40 people, including hotel accommodations, food and catering services for a reunion dinner, an outing to Six Flags America®, a breakfast buffet, and an evening reception. The winning group will also be treated to a guided cultural tour of the County, courtesy of First Priority Trailways, an information genealogy workshop, a hospitality room for gathering at the hotel, photography services, and Reunion Capital USA T-shirts.
Learn more about the Reunions
To learn more about the 2009 Reunion Capital USA Cyberhunt Reunion Online Sweepstakes, visit: ReunionCapitalUSA to enter, follow Prince George's County Sweepstakes postings on its blog at Reunion-Headquarters and be updated regularly on Twitter® at ReunionsUSA. To find out more about Prince George's County, Maryland please visit http://www.VisitPrinceGeorges.com or call 301.925.8300 for a FREE Reunion Planning Kit.
The Cyberhunt Sweepstakes closing date is December 31, 2009.
###