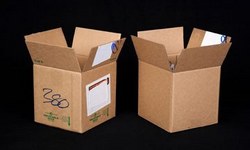 Our design enables the clean inside of the box to quickly and easily become the new outside, at least doubling the box's life cycle.
Plainfield, IL (PRWEB) February 10, 2010
Salazar Packaging, Inc. announced today the availability of its new patent pending product, the Globe Guard® Reusable Box - an RSC style box that can easily be turned inside-out to create a like-new shipping container. The innovative design makes reuse of corrugated containers a practical option for the first time.
"Shipping boxes are typically still structurally solid after their first use," said company president, Dennis Salazar, "but they are thrown away or recycled because of how they look. Our design enables the clean inside of the box to quickly and easily become the new outside, at least doubling the box's life cycle. Essentially, the Reusable Box does the job of two boxes, possibly more."
The Reusable Box is ideal for warranty claim and replacement shipments, repair and return operations, e-commerce returns, parts exchanges, product loaners, intra company and intra office shipments, and other applications where more than one shipping container are used for shipping products back and forth.
In addition, firms committed to supporting the environment can use the Reusable Box to communicate their sustainable values and encourage packaging reuse.
Beyond strengthening a firm's sustainable packaging profile, the Reusable Box can produce cost saving by reducing material costs, streamlining procurement, eliminating SKUs, and conserving warehouse space. In addition the shipping boxes can be custom printed inside and out to make returns processing more efficient.
The Reusable Box can be custom made in a wide range of sizes and board strengths as well. Minimum order quantities vary depending on box size. For small business and entrepreneurs, Salazar Packaging –anticipates eventually adding standard sizes to its online green packaging store, GlobeGuardProducts.com.
For additional information and inquiries, please contact Salazar Packaging at http://www.reusableshippingboxes.com.
About Salazar Packaging, Inc.
Headquartered near Chicago, IL, Salazar Packaging is a Minority Business Enterprise (MBE) specializing in packaging design and development, sustainable packaging products and services, and automation of high volume packaging operations. Its product lines include industrial polyethylene and polypropylene shrinkable and non-shrinkable films, stretch wrap films, box sealing tapes, and eco friendly corrugated products including Globe Guard 100% PCW recycled content boxes. The firm sells and services a full line of high-speed equipment to shrink, bag, and seal industrial films of all kinds. It represents leading industry manufacturers including Bemis Clysar® shrink film, Autobag® automatic bagging systems, Rennco® vertical packaging equipment, and its own line of environmentally friendly Globe Guard® packaging products.
###