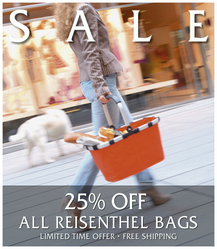 Reisenthel totes and bags are stylish and sassy
Portland, OR (PRWEB) March 18, 2009
Specialty home and garden retailer QualityMatters.com is pleased to announce the addition of Reisenthel reusable shopping bags and totes to its line of superior products. The collapsible German products are renowned for their versatility, contemporary look and innovative design.
"Reisenthel totes and bags are stylish and sassy," said Renee Hall, Quality Matters' President and CEO. "They are a must for shopping, running errands, commuting, and a host of other activities, and we are excited to offer them to our customers."
In addition to looking fantastic, Reisenthel grocery bags and totes are an environmentally-conscious alternative to disposable plastic bags. All Reisenthel products are crafted from high-quality recyclable materials designed to enhance users' lives while being respectful of the environment. Made from lightweight, durable materials, the bags come in colorful options that make carrying them fun.
Reisenthel reusable shopping bags and totes, which are a big hit in Europe, are beautifully constructed and ultra functional. They range from sleek bags and totes to foldable trolleys and bottle-holders. The Mini Max Shopper, for example, is a small bag that users can place in their purse or pocket and quickly unfold into a convenient carry-all whenever needed. Shoppers needing to transport more items can opt for the large City Totebag.
QualityMatters.com provides consumers with convenient access to a broad spectrum of home and garden products. Shoppers not only receive superior quality and value, but they also benefit from the outstanding customer service that has become the Web site's trademark. "Our focus is on quality of product and quality of service, but with a truly competitive price," Hall said. "We are finding success largely because people are tired of inferior service and quality."
The unique ecommerce site distinguishes itself in the marketplace by providing an online environment where discerning shoppers can purchase an array of top-grade products in one place. QualityMatters.com also provides an easy shopping solution, as users can quickly search for home, garden, electronics, sports and outdoors products by price or brand name. The site also offers a variety of gifts items, as well as extended warranties for the appliances it sells.
About QualityMatters.com
QualityMatters.com is a thriving, family-owned business that was established five years ago by entrepreneur Renee Hall. The mission of the Portland, Ore.-based company was to combine high-quality items with exceptional customer service. That strategy has proven to be effective, as the ecommerce site is now successfully competing against major online retailers like Amazon.com and Overstock.com. As an Internet company, QualityMatters.com uses a strategic network of warehouses nationwide to ship products to its customers.
About Reisenthel
Reisenthel is a 30-plus-year-old German company with a concept to make products that are extremely practical and versatile. The company combines first-class design with product quality to create reusable shopping bags and totes with a perfect blend of form and function. Its products have received numerous design awards--including the prestigious international red dot design & Design Plus awards. Reisenthel's eco-friendly reusable bags, totes and other products are designed in Germany and responsibly made in China with fair wages and fair labor.
For more information, about QualityMatters.com or its new line of Reisenthel bags, please visit http://www.qualitymatters.com/Reisenthel-s/432.htm or call (866) 725-9980.
Contact:
Renee Hall, QualityMatters.com President & CEO
(503) 946-5869
###