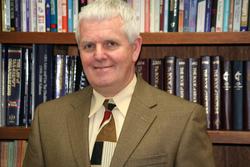 Charles brings to GBOD almost two decades of financial and administrative experience from both the public nonprofit sector and the general church. He's the right person to provide financial and operational leadership to the agency
Nashville, TN (Vocus) September 23, 2008
The Rev. Charles R. Carnahan has been named chief administrative officer and treasurer for the United Methodist
General Board of Discipleship (GBOD) based in Nashville, Tenn.
Carnahan will lead the agency's financial and operational areas, including accounting, human resources, building services, strategic systems and communications, in addition to providing general oversight of the agency's fiscal affairs.
"I am delighted to announce that the Rev. Charles Carnahan has been appointed to GBOD as the chief administrative officer," says the Rev. Karen Greenwaldt, top executive for GBOD.
"Charles brings great skill, ability and leadership to this significant office at GBOD. An able leader and administrator, Charles will continue to move GBOD forward through its ministry of administrative leadership," said Greenwaldt.
Carnahan served as the treasurer-director of administration and the conference benefits officer for the New England (regional) Conference of The United Methodist Church, where he was responsible for staff support of the Conference Council on Finance and Administration, Conference Trustees, Conference Personnel Committee and Conference Board of Pensions and Health Benefits.
"Charles brings to GBOD almost two decades of financial and administrative experience from both the public nonprofit sector and the general church. He's the right person to provide financial and operational leadership to the agency," says Foye Webb, GBOD's out-going chief administrative officer/treasurer.
Previously, Charles served as chief operating officer of CAB Health & Recovery Services, Inc., a leading substance abuse treatment and prevention agency serving
northeastern Massachusetts and greater Boston. In this position, he was responsible for revenue generation, facilities management and day-to-day operations.
Charles also directed the AIDS Project Worcester, Inc., leading it through a process of organizational/financial restructuring and revenue growth.
A Boston area resident, Rev. Carnahan has spearheaded or consulted with human service organizations throughout the U.S., U.K., Latin America and Asia.
He served for 5 years as an international program officer with the United Methodist General Board of Global Ministries, where he managed health projects, programming and training worldwide, including programs in Vancouver, Canada, Guatemala, Uruguay, India, Zimbabwe, Brazil and other locations.
In 1991, President George Bush recognized Carnahan with the U.S. Presidential Volunteer Action Award for leading an interfaith, community-based HIV/AIDS organization in the Dallas/Fort Worth area, while former Texas Governor, Ann Richards and the City Council of Dallas, Texas honored him for his work with persons living with HIV disease.
An ordained elder in the North Texas Conference, Rev. Carnahan has earned an executive MBA from Suffolk University, a Master of Divinity degree from Southern Methodist University, and a B.S. in business administration from Louisiana Tech University.
GBOD's mission is to support annual conference and local church leaders for their task of equipping world-changing disciples. An agency of The United Methodist Church, GBOD is located at 1908 Grand Ave. in Nashville, Tenn. Visit http://www.gbod.org for more information or call the Media Relations Office toll free at (877) 899-2780, Ext. 7017.
###