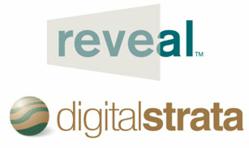 The days of being overwhelmed by unused features and functionality in review tools are over. Our clients demand cost-effective simplicity paired with top notch functionality...
Campbell, CA (PRWEB) May 09, 2012
Digital Strata (http://www.digital-strata.com) today announced that it has selected InControl™ by Reveal Data Corporation (http://www.revealdata.com) as its litigation support platform, providing its legal clients access to an all-in-one online document review platform as a hosted service.
"InControl met all of our technical requirements and made the most sense financially for our end-to-end e-discovery services offering," said Dan Fischler, CEO of Digital Strata. The platform includes functionality our clients need in an easy-to-use interface and is backed by a solid management and development team that is dedicated to keeping the platform state of the art."
InControl includes proprietary analytics at no additional cost, which complements Digital Strata's unique no per gigabyte or per page pricing model, providing clients unmatched budget control and transparency without surprise hidden costs. With InControl's analytics, clients gain valuable insight into data patterns, allowing in-depth analysis to occur earlier in the case. Workflow can then be managed using the project manager module, allowing administrators to make adjustments based on productivity and other metrics, thus improving overall review efficiency. The cross-browser compatible online document review tool provides an intuitive, user-friendly interface, allowing users to be productive quickly.
"The days of being overwhelmed by unused features and functionality in review tools are over. Our clients demand cost-effective simplicity paired with top notch functionality," continued Fischler. "Offering them a system that runs on any operating system through any browser gives today's review platform users the flexibility they demand."
"Reveal is persistent in our goal to meet all users' needs, from individual reviewers at law firms to service providers offering managed services with InControl," said Wendell Jisa, chief operating officer of Reveal. "We are pleased to work with Digital Strata in providing their clients the technology they need to improve their overall review efficiency."
About Digital Strata
Founded in 1994, Digital Strata is a professional services company that specializes in easing the burdens of e-discovery, litigation support, and forensics; some of the most complex, intricate, and expensive corporate legal processes. This is our specialty, not an add-on to part of a larger product suite.
We provide an unmatched model that is both comprehensive and cost effective. Because electronic information has become the cornerstone of most corporate legal proceedings, we employ experts in both litigation support and IT to make e-discovery as efficient and effective as possible.
Digital Strata's e-discovery process is powerful, economical, secure, and robust, as proven in dozens of law firms and the legal departments of Fortune 500 customers, including industry-leaders in corporate law, manufacturing, high tech, pharmaceutical, transportation, and biotech.
About Reveal
Reveal is a technology company that offers document analytics, online document review and project management software in a single platform to the legal industry's litigation market. The company is comprised of leading-edge technologists, successful entrepreneurs, and seasoned litigation support experts who have delivered products to emerging markets for decades. Reveal sells its flagship product, InControl™ as an installed software product to law firms, corporations and service providers internationally. Reveal's InControl provides a firm the flexibility, reliability and affordability to contain litigation costs with its own analytical tools and easy-to-use document review, as well as to communicate case information across their litigation support team. Read more about Reveal at http://www.revealdata.com.