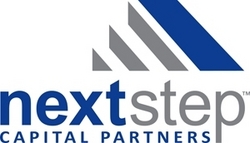 "There are a number of promising, early-stage companies out there for which sales and revenue expansion is the primary objective rather than future acquisition or IPO," said Patrick Drew. "We're a perfect fit for these types of companies."
Austin, TX (PRWEB) February 15, 2011
Longtime business executives, entrepreneurs and investors, Dan Keelan and Patrick Drew, today announced the launch of Next Step Capital Partners TM (http://www.nextstepcapitalpartners.com). The firm invests in early-stage, dynamic-growth companies in exchange for a share of future revenue. As a result of this innovative approach, the firm's investment does not impact ownership or control, nor does it require a lengthy pre-money valuation. Additionally, investment returns are capped and funds can be available to an approved requestor within weeks.
"For a lot of young companies, debt financing is undesirable if not unattainable and angel or venture capital comes with too many entanglements," said Dan Keelan. "Patrick and I recognized the gap in funding sources for near-term revenue expansion and we created Next Step Capital Partners TM to address it."
The concept of revenue-sharing investment, while relatively new as a source of early-stage company funding, has long been a staple of investment in oil and gas development and movie production. (See Wall Street Journal article An Alternative Financing Option for Start-ups). The primary benefit of the approach is the full alignment of investors and company management toward topline revenue growth.
"There are a number of promising, early-stage companies out there for which sales and revenue expansion is the primary objective rather than future acquisition or IPO," said Patrick Drew. "We're a perfect fit for these types of companies."
A Next Step Capital Partners TM investment is ideal for companies seeking between $250,000 and $500,000 to expand sales, launch a new product, rebuild inventory or fund other growth-focused operational objectives. The investment horizon is shorter term, just one to three years, and returns are capped at a negotiated amount. Lastly, while always available to assist partnering companies when needed, Next Step Capital Partners TM does not require a Board seat or management role in return for its investment.
"We sought funding to launch a new gaming title for the Sony PS3™, Novus Prime (http://novusprime.com) and Next Step Capital Partners TM revenue-sharing investment structure was a perfect match for our needs," said Hellfire Games Vice President, Gavino Morin (http://hellfiregames.com). "Novus Prime is already generating substantial revenue for Hellfire and we've already begun making payments to Next Step Capital Partners in line with our agreement."
About Next Step Capital Partners, LLC
Next Step Capital Partners was created to help businesses with exciting opportunities for growth. Bringing to bear a previously underutilized investment structure, partners Patrick Drew and Dan Keelan help companies across the state of Texas take their business to the next level. Their experience, and passion for turning small business into big business, are the key drivers of Next Step Capital Partners' innovative approach to investing.
About HellFire Games, Inc.
Hellfire Games, Inc. is an independent game studio organized in 2009. Hellfire Games boasts a highly skilled management team with extensive experience in the gaming industry. The company's latest product for the Sony PS3™ launched in December 2010. Novus Prime has received numerous positive reviews and is one of the most heavily visited sites in the PlayStation®Home environment.
Next Step Capital Partners
# # #