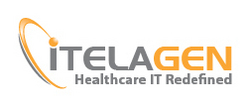 The key to increasing healthcare IT adoption is to make the process as easy and valuable to physicians as possible
Jersey City, N.J. (Vocus) April 6, 2009
ITelagen, Inc., innovative provider of one-stop, flat-fee healthcare information technology and support, today announced it has expanded the breadth of its offerings to include full service, integrated and outsourced billing capabilities for healthcare providers. As the nation's physicians take advantage of federal funding to reap the many benefits of implementing electronic medical records (EMR), ITelagen is committed to making the process as easy and all-inclusive as possible. By adding robust revenue cycle management to its One-Stop Shop for EMR™, ITelagen puts the full power of industry-leading healthcare information technology (IT) into the hands of physician practices of every size.
"The key to increasing healthcare IT adoption is to make the process as easy and valuable to physicians as possible," explains ITelagen CEO John O'Keefe. "Healthcare providers aren't in the IT business, nor should they be. That's where we come in. From consultation through implementation, hosting through ongoing support - and now, fully integrated billing services - ITelagen makes it easy and affordable to reap the benefits of healthcare IT."
ITelagen has been helping physician practices and healthcare organizations adopt EMRs easily and cost effectively for years, handling all facets of EMR and IT implementation, hosting and ongoing support for a flat fee or fixed percentage. As a result of ITelagen entering into an agreement to acquire noted healthcare billing company H M Thomas Associates, clients will now also have easy access to world class revenue cycle management.
"Matching a team of experienced medical billers and coders with the power of ITelagen's technological expertise, clients will see faster turnaround times on claims payments, higher realization rates, increased efficiencies and lower costs - all fully integrated with their EMR systems," explains ITelagen CEO John O'Keefe. "Most importantly, physicians will be able to devote fewer resources to billing-related tasks and more to providing the best possible patient care."
About ITelagen, Inc.
ITelagen® redefines Healthcare IT for medical practices by utilizing the latest technologies to offer, host and manage Electronic Health Records (EHR) applications and proactively support all aspects of the computing platform, network and staff members. It's a unique combination of practice management and Electronic Medical Record (EMR) software, real-time payer knowledge, IT know-how, and comprehensive billing services - from claims submission to insurance collection. By combining IT, hosting and certified EMR experts, ITelagen becomes the single point of contact and "One-Stop Shop" for IT, EMR and revenue cycle management, all for a flat monthly subscription fee. For more information, visit ITelagen on the Web at http://www.itelagen.com.
CONTACT:
Beverly Bartley
Vice President of Communications
Martopia
Media Representative for ITelagen
404.327.9051
bbartley (at) martopia (dot) com
# # #