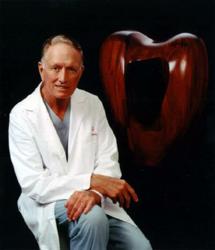 Global Healthcare Alliance has developed the expertise and technology for payors and providers to manage critical information, Dr. Denton A. Cooley
Houston, TX (PRWEB) April 30, 2013
Global Healthcare Alliance, developers of globalcentara Provider the complete revenue cycle management solution is proud to announce that Dr. Denton A. Cooley has been inducted into the prestigious Modern Healthcare Hall of Fame. Dr. Cooley, Surgeon in Chief, President Emeritus of The Texas Heart Institute, and board member since 1997, is best known for performing the first human heart transplant in the United States and as the founder of the Texas Heart Institute.
Long recognized as one of the most gifted and innovative heart surgeons in the world, Dr. Cooley also made history when he performed the first artificial heart implant in 1968. Dr. Cooley's contributions to medicine and cardiovascular surgery included many products such as a mechanical ventilator for infants, a defibrillator, a re-useable stainless steel oxygenator as well as a multitude of pioneering new procedures in cardiac surgery.
While he is best known for his pioneering work in cardiac surgery, Dr. Cooley was also a pioneer in developing the first packaged pricing plan for cardiovascular procedures. His benefit plan incorporated the concepts of bundled services, shared risk and a single payment for professional services, a concept later adopted by Medicare. Dr. Cooley along with other physicians and officers of Cardiovascular Care Providers, Inc. founded Global Healthcare Alliance in 1997, with the goal of leveraging their payor-provider knowledge to develop technology that would revolutionize medical billing and claims processing.
According to Dr. Cooley, "Global Healthcare Alliance has developed the expertise and technology for payors and providers to manage critical information in a complex environment". Today, Global Healthcare Alliance is the only claims processing and medical billing service provider to support both providers and claims payment for bundled services and managing shared risk.
About the Modern Healthcare Hall of Fame
The Modern Healthcare Hall of Fame is the industry's most prestigious recognition program. It is a joint partnership between Modern Healthcare and the American College of Healthcare Executives. The program was created to honor the men and women who have made outstanding contributions to the healthcare industry. Since 1988, ninety-five healthcare visionaries, original thinkers and leaders have been honored with this prestigious distinction.
About Global Healthcare Alliance
Global Healthcare Alliance (Global) provides revenue cycle management services to health care providers nationwide. Its award-winning, web-based practice management system, globalcentara – powered by Microsoft® Silverlight™, helps physician practices reduce overhead, decrease denials and improve cash flow. globalcentara's flexibility also provides physicians with the freedom to choose and integrate best-of-breed technology, such as an electronic medical record (EMR), based on their practice's needs, and integrates bundled pricing, shared risk and claims payment.
http://www.globalhca.com