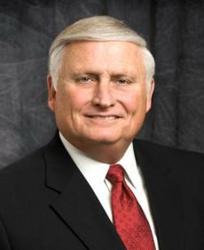 Dan's extraordinary industry expertise will help us execute on our vision of being the premier revenue cycle management solution for healthcare providers - John Adams, CEO, Global Healthcare Alliance
Houston, TX (PRWEB) May 14, 2013
Global Healthcare Alliance, developers of globalcentara Provider the complete revenue cycle management solution, is proud to announce that Mr. Dan Wilford has joined the company's board of directors.
Mr. Wilford served as the President and Chief Executive Officer of Memorial Hermann Healthcare System from 1984 until 2002. The Memorial Hermann Healthcare System is comprised of 15 hospitals in the greater Houston area, an outpatient center, two nursing homes, a wellness center, a retirement community and a network of affiliates throughout southeast Texas. Under his leadership, Memorial Hermann became the largest non-profit health care system in Texas and among the largest in the country. Prior to that, he was associated with Hillcrest Medical Center in Tulsa, Oklahoma and was President of North Mississippi Health Services in Tupelo, Mississippi.
In 1995, he was the recipient of the Washington University Health Administration Program Distinguished Alumnus Award, received an honorary Doctorate of Laws degree from Houston Baptist University and was named Business Leader of the Year in Fort Bend County, Texas. In 1996, Mr. Wilford received the American College of Healthcare Executives Gold Medal Award recognizing the nation's outstanding healthcare executive.
Mr. Wilford was inducted into the Modern Healthcare Hall of Fame in 2009. The Modern Healthcare Hall of Fame is the industry's most prestigious recognition program. It is a joint partnership between Modern Healthcare and the American College of Healthcare Executives.
In addition to his many professional achievements, Mr. Wilford is a retired National Football League official who actively participated in sports throughout his life.
Global Healthcare Alliance President and CEO John Adams commented, "We are delighted that Dan Wilford has agreed to join our board. Dan's extraordinary industry expertise and insight will help us execute on our vision of being the premier revenue cycle management solution for healthcare providers".
About Global Healthcare Alliance
Global Healthcare Alliance (Global) provides revenue cycle management services to health care providers nationwide. Its award-winning, online practice management system, globalcentara – powered by Microsoft Silverlight, helps physician practices reduce overhead, decrease denials and improve cash flow. globalcentara's flexibility also provides physicians with the freedom to choose and integrate best-of-breed technology, such as an electronic medical record (EMR), based on their practice's needs.