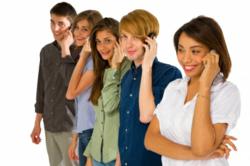 Over 218 million landline numbers are included as well as 200 million cell phone numbers.
San Francisco, California (PRWEB) January 04, 2013
Reverse cell phone lookup services are not new online although one company has improved the cost of these services. The Cell Phone Registry is one of the largest databases online for cell and landline phone numbers. This company has enabled a new annual search plan that provides 365 days of unlimited usage. Adults that use this system can pay a small annual fee for this service instead of single number searches.
Millions of landline and cell phone numbers now exist in the United States according to telecom data. Many people use both phone types for communication purposes. Some individuals operate businesses or use phones for texting or other purposes.
Since some cell phone data is private, traditional Caller ID services could be lacking in the amount of details provided. The new unlimited search plan online is helping to deliver more phone data.
A person that uses this updated database search plan now has the option to print a report that could include information not readily found online. Many of the records include first and last name, former mailing address, telephone carrier information and the age of a phone user. This data can be useful to adults that perform searches for verification or discovery purposes.
The Cell Phone Registry company now has one of the largest online-only databases that can be used for a reverse phone search. Over 218 million landline numbers are included as well as 200 million cell phone numbers. These records included published and unpublished numbers that can be accessed through this search system online. This secure system an be accessed 365 days a year.
About Cell Phone Registry
The Cell Phone Registry company launched its online search tool in 2009 and has updated its records on a regular basis for the past 4 years. Millions of public records can now be searched by adult users in hopes of finding information about the owner of a phone number. The cell, unpublished and landline records that are offered can be reviewed privately online. The Cell Phone Registry company provides one of the only annual plans found for reverse phone number lookup services currently online. The data that is generated by this company complies with all FCC legislation.