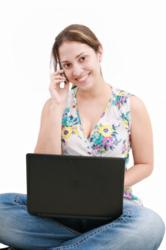 These records can be used for private use and comply with FCC privacy legislation.
Seattle, Washington (PRWEB) February 06, 2013
Email remains one of the largest sources of conversation for men and women online. This ease of communication does have a level of anonymity that could work against someone doing research. EverifyDatabase.com company is now providing access to its newest search total online. This reverse email lookup system provides a secure and immediate way that any adult can use to find the identity of someone using only an email address.
Employee computer use for business purposes has grown over the past 15 years. It is now customary for many businesses to issue an email address to an employee as part of daily work routines and some companies do not verify usage.
The social media expansion that has taken place over the past decade has provided an easy way for people to use to communicate using only an email address for verification purposes one accounts are created.
One of the ways that the EverifyDatabase.com company is using to raise security levels for social media users is by offering its new tool for social media lookups. Aside from the email address lookup system, new social media tools can be used to locate the history of the social media user. These searches can help reveal photographs, text, blog posts, and other digital footprints that can be difficult to find through normal Internet searches.
The data types that are now available through the online access include variety in the information. From searches by first and last name to reverse phone lookups for cell phones and landline phones, over one billion records are now available to sort through incentives secure database. These records can be used for private use and comply with FCC privacy legislation.
To celebrate the offering of these new tools, a no cost trial for five days is now available to new users of the system. The full system resources are available and no restrictions for data usage are in place during the trial. Immediate signup is now available online at the company website.
About Everify Database
The Everify Database company provides immediate access to a secure national database online. This company is one of few data management companies able to provide access to adults outside of law enforcement agencies. The types of data that are available to search include criminal histories, phone records, email addresses, property records, sex offender records and other data useful for private purposes. The Everify Database company provides free trials for its services to ensure that all adults can learn to use the system and benefit from the data acquired.