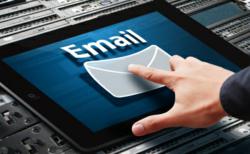 The free and premium annual searches that are available through this reverse email search system can be accessed by any adult with an Internet connection.
San Francisco, California (PRWEB) November 13, 2012
Reverse email lookup is now possible on the Internet through the Email Finder company. This brand new company and its new website are giving men and women around the world the opportunity to discover the owner of nearly any email address. The Email Finder company is part of a data management company that obtains consumer information. Any information that is attached to an email address is now included in this new online database. Both free and premium searches are offered using this tool linked to the Email Finder website.
The increase in social media has been hard to ignore. Facebook, Twitter and MySpace now report over one billion users of these social media websites. One of the drawbacks of obtaining information from these websites is the privacy of user account information. While anyone can create a social media account, only law enforcement could make a request in past years to find out who owns an account.
The Email Finder service is offering its reverse email lookup search tool for online use. This tool instantly searches millions of records to display ownership of an email account and up to 20 social media accounts online. This new feature is designed to increase the privacy of users of these websites. Finding out the name, address and telephone number that is associated with an email address is the core of this online search service.
Apart from social media use, families that hire workers to perform work inside of their homes can now lookup email addresses. It has become common to post job listings on websites like BackPage or Craigslist to find talented workers. One drawback to using these websites is that user information cannot be verified at this time. The Email Finder service is now helping to fill the void left by these websites by attaching a name, address or phone number to an email address.
Email is now part of most businesses in the U.S. The daily correspondence between internal and external contacts can be difficult to control. New hires that supply electronic employment applications by email can now be verified through the Email Finder service. This new offering was created to help small business owners to verify information without hiring an expensive third party background search firm.
The free and premium annual searches that are available through this reverse email search system can be accessed by any adult with an Internet connection. Limited information is offered with a basic search to allow anyone to test the search system and find unlimited email addresses. The annual plans provide the most complete and up to date data that can be printed instantly.
About Email Finder
The Email Finder service is of the first of its kind to offer email searches on the Internet. This search system was developed by this data management company to aid individuals or business owners with easier ways to find the owner of an email address. Many of the customers that use this online service combine it with social media usage to verify friends or other lists that can be made virtually online. The Email Finder service company website can be accessed 365 days a year and searches are designed to return data within 30 seconds.