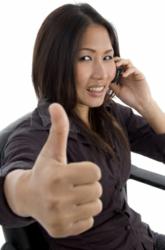 It is the data from these searches that could prove useful to those that search phone numbers online.
Houston, Texas (PRWEB) December 16, 2012
Reverse mobile phone lookup is one way that adults can use to find the owner of a phone number. A new company has launched online to help provide an alternative to Caller ID systems. The ReverseMobile.com company has launched its lookup tool online. This new tool searches almost all U.S. mobile phone numbers and can provide a match in under one minute online.
The new preliminary search function does allow for a basic search to be completed. Although these searches are limited in data, a more detailed search is offered for a monthly or annual payment plan. It is the data from these searches that could prove useful to those that search phone numbers online more frequently for research and validation purposes.
The ReverseMobile.com company is not a consumer credit reporting agency and does not provide personal credit information. The Fair Credit Reporting Act prevents companies that are not licensed credit bureaus to deliver what could be considered sensitive information.
The newly installed online search tool does provide access to national databases of public information. This information is obtained using multiple resources that include public and private sources. Since caller identification services can be limited, reports using this new tool can provide much more information in a simple online search.
Telecom data has revealed there are now over 300 million cell phone users in the U.S. Some of these numbers are blocked or no longer show up on caller identification service databases. Cell phone users that opt-out of this process can complicate the reverse search process through some companies.
The Reverse Mobile company has taken the search service to a different level online. Millions of numbers are now offered through the connected database to make it easier for those to find hard to locate numbers. Since reports can now be generated, information can include first or last name as well as mailing address information.
The new search tool is available on the reverse mobile website to help provide an alternative to adults that perform private searches on the Internet.
About Reverse Mobile Company
The Reverse Mobile Company offers its database for adult use on the Internet. This company database is attached to a larger network of public data that can help to verify or present information normally available to private investigation companies. The reverse phone, landline and additional number lookups are provided through preliminary and premium search functions online. The Reverse Mobile Company database can include criminal records, marriage records, divorce, address and other verifiable information that is pulled from public data sources online and offline.