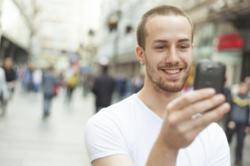 The easy to use Inteligator reverse mobile phone search tool represents one upgrade to company services this year.
Philadelphia, Pennsylvania (PRWEB) December 03, 2012
Inteligator search company has added a reverse mobile phone search tool to help verify mobile number ownership online. This new search tool available here provides a preliminary search of any U.S. number. More detailed information can be obtained from a premium account.
A reverse phone search is one way that can be used to find out the account ownership of a mobile phone. While caller identification systems do exist, these systems could have incomplete data or not provide first or last name information.
One way that the Inteligator search company tool is different is by the type of information that is now generated during a search.
Adults that gain access to the Inteligator search database have options of how data can be searched and displayed online. Any number can be searched and if a match is found the data is displayed. Users now get the choice of what data to access. Apart from simple phone records, street address information, former addresses and phone carrier information can be displayed.
The easy to use Inteligator reverse mobile phone search tool represents one upgrade to company services this year. A full background search is now offered discretely online. This search can now be used along with the reverse mobile phone lookup to present more detailed information.
Families that have cell phone plans for all members in a household could find that these new tools are useful. Monitoring the phone activity and incoming calls for the cell phone of a minor is one way parents can provide security for children. Since the new Inteligator search is conducted online, private reports can be printed or accessed from a mobile Internet connected device.
People with criminal pasts that include driving offenses, sex crimes and other felony charges can often move from place to place. Some public information can be out of date due to the changes in address or other contact information on record. The Inteligator company receives its data from multiple sources online and offline to ensure that all consumers now have immediate access to updated criminal records histories.
This new reverse mobile phone lookup tool is part of monthly or annual plan that can be purchased at a discount for new customers. Adults that want to search unlimited phone numbers or public records information can do so under the new monthly or annual Inteligator pricing plans.
About Inteligator
The Inteligator company offers its one billion records online to adults that perform a variety of public records searches. By offering accurate data, adults receive information that might not be accessible through other public information sources. The Inteligator company offers reverse phone, property search, background checks, marriage and death records and criminal records checks entirely online. This range of services has helped the Inteligator company to offer these services in nearly all 50 U.S. states that allow the retrieval and storage of public records.