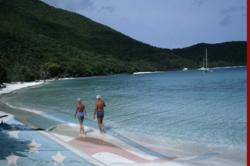 Garden Grove, CA (PRWEB) August 24, 2012
The U.S. Virgin Islands will now have dedicated access to reverse mortgages, now that Garden Grove, Calif.-based lender All Reverse Mortgage Company has expanded its business to the U.S. territory.
All Reverse Mortgage Company is the only lender actively offering the federally-insured Home Equity Conversion Mortgage (HECM) program to consumers in the Virgin Islands.
"We had a flurry of activity in the territory, so we started looking into getting licensed and found that no one was serving the area," said Michael Branson, CEO of All Reverse Mortgage Company.
The company serves the St. Croix, St. Thomas, and St. John areas of the region.
While the overall market may be small relative to the U.S., All Reverse Mortgage Company still sees value in expanding into the region.
"Since no other lenders were servicing the area, we decided it was our job to bring the HECM program back to the Virgin Islands," Branson said.
In the past, other lenders have offered reverse mortgages in the Virgin Islands but have since ceased operations. All Reverse Mortgage Company said it will remain committed to the seniors in the territory to help them age in place and enjoy retirement.
All Reverse Mortgage is a family owned reverse mortgage company with 100 years of combined experience in mortgage banking.
We have been instrumental in educating some of the largest banks on the nuances of the reverse mortgage products, and their benefits to senior homeowners.
We maintain an A+ exemplary rating by the Better Business Bureau and are proud
members of the National Reverse Mortgage Lenders Association. As a NRMLA member we abide by a Code of Ethics & Professional Responsibility in which we pledge to serve all borrowers with integrity.
Online: http://www.allrmc.com
Reverse Mortgage Virgin Islands
Lic/Reg #: VI-MBC-13999 | NMLS #MB13999 Access Link | FHA Lender ID #26031-0007