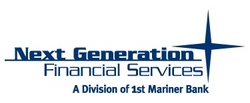 Baltimore, MD (PRWEB) February 22, 2008
New discounts and a settlement guarantee on Reverse Mortgages have just been announced by Next Generation Financial Services (NGFS), a Division of 1st Mariner Bank. Reverse Mortgages give seniors greater financial security during retirement and help with unexpected expenses such as long term medical care and home improvement needs.
"As the Reverse Mortgage industry becomes more competitive, we want to show seniors that when doing business with Next Generation Financial Services, their satisfaction and wellbeing are our top priorities," states Valerie VanBooven RN, BSN, Director of Marketing for NGFS.
New benefit #1: Effective immediately NGFS will no longer require the applicant to pay for the cost of the appraisal at the time of the application. NGFS will pay for the appraisal and collect the fee at settlement. The applicant is responsible for the appraisal fee if their loan does not settle.
New benefit #2: Effective immediately, NGFS will pay the attorney fee for all Reverse Mortgages. This means a direct reduction to the closing cost of $750 on average for all NGFS Reverse Mortgage clients. This only applies to Reverse Mortgage transactions.
New benefit #3: Effective immediately, NGFS will guarantee that we will settle the loan within 30 days or less from the time the completed application is received or we will reduce the Origination Fee by $1,000! It should be noted that a complete application is defined to mean the inclusion of all supporting documents and/or information required including repairs and title issues.
Douglas McLain, one of the founders of Next Generation Financial Services adds, "We are committed to bring only the best products and service possible to our clients. We are very proud of our achievements and the quality way in which we have represented ourselves. NGFS will continue to do all that it can to make sure this high standard is continued in the future. We expect further growth in the market and plan to continue to be one of the industry leaders in 2008 and beyond."
About Next Generation Financial Services (NGFS)
NGFS was formed through the joint efforts of 1st Mariner Bank of Maryland and Institutional Marketing Services to create a delivery channel for financial strategies that blend traditional banking products and services with insurance and estate planning products and services. The new settlement guarantee on Reverse Mortgages and other discounts are demonstrative of the industry leading programs instituted by NGFS. For more information, please visit http://www.ngfs.net/
Contact:
Valerie VanBooven RN, BSN
Director of Marketing, Next Generation Financial Services,
A Division of 1st Mariner Bank
877-529-0550
Valerie@nextgenfinser.com
###