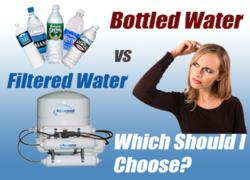 Scottsdale, AZ (PRWEB) May 24, 2012
Advanced Water Filters understands the value of having clean, safe water available in the home. The limited Memorial Day special offers free shipment for any water filter system purchased online. "There's been a major public relations campaign launched to convince the people that bottled water is safer, and better, and purer than tap water; what our study found is that is really isn't the case." It seems that Americans often by into the image projected by advertising. But is it all Hype?
A National Resources Defense Council study included testing of more than 1,000 bottles of 103 brands of bottled water. While most of the tested waters were found to be of high quality, some brands were contaminated: about one-third of the waters tested contained levels of contamination -- including synthetic organic chemicals, bacteria, and arsenic -- in at least one sample that exceeded allowable limits under either state or bottled water industry standards or guidelines. A key finding of this study showed that current bottled water regulations were inadequate to ensure consumers were consuming water that is either pure or even safe to drink.
Even though the Food and Drug Administration (FDA) is responsible for bottled water safety, the current FDA rules exempt water that is packaged and sold within the same state. 60-70% of bottled water falls into this category which puts consumers at risk.
Consumers need to know their filtered vs. bottled water options. Even though bottled water is extremely convenient, the problem with bottled water is that the reliability factor is weak as the study by the NRDC shows.http://www.nrdc.org/health/safe-drinking-water.asp
There are significant cost factors to consider when determining the best water source. According to StatisticBrain.com the average person uses 167 bottles of water each year. The International Bottled Water Association states that the total amount Americans spend on bottled water, as a nation, each year is $15 billion dollars. There are 2.6 billion cases of water sold in the United States each year. Coke and Pepsi corporations alone profit over $300 million a piece each year from the sale of bottled water. Maybe it is true that advertising is playing a large role in the water consumption habits of the American people.
An informative article published by Consumer Reports states the importance of knowing what contaminants need to be filtered out before purchasing a water filtration system. "More than just water that tastes good might be at stake. Dangerous contaminants such as lead, chloroform, arsenic, nitrate, nitrite, radon, and E. coli bacteria are common in tap water. Bottled water, often advertised as a "pure" and "natural" alternative to tap water, is generally safe. But it's actually less regulated by the Environmental Protection Agency than municipal water supplies. Indeed, some bottled water is simply filtered tap water. Fortunately, our tests of water filters of various types found models suitable for removing many such contaminants."
Research indicates that reverse osmosis a convenient, effective and thorough method to purify water. The technology in reverse osmosis water filtration systems allows for tap water to be "hyper"-filtrated. It is a technique used to desalinate seawater and was originally invented for this purpose back in the 1950's by the United States Government. The membrane used in Reverse Osmosis water purification systems work to remove a wide variety of contaminants. These types of systems are within the price range of $250 -$300 dollars. They are convenient to install and provide the purest water as long as the filter is changed regularly. Membrane replacement also factors into the cost of an RO system running between $70-$140.
Water bottle usage costs the average consumer over $3,000.00 per year. While the initial cost of an RO system can be over $500.00 the yearly maintenance costs for pure water from the water filtration system are minimal, potentially saving water bottle users thousands of dollars per year.
Chris Ormiston, local owner of Advanced Water Filters ( http://www.advancedwaterfilters.com ), is a reverse osmosis water filtration expert. Contact Chris at support(at)advancedwaterfilters(dot)com. The office for Advanced Water Filters is located at 7701 East Gray Road, Suite 104 Scottsdale, Arizona 85260. Calls can also be made for more information at 480-348-0222.