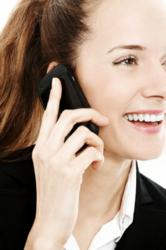 These numbers are now a combination of cell, landline and unpublished numbers in the company database.
Danbury, Connecticut (PRWEB) April 02, 2013
Reverse phone lookup is one way that phone owners can fight back and learn exactly who is calling any phone number based in the U.S. The ReversePhoneLookupApp.com company has upgraded its website online to include 500 million searchable numbers. These numbers are now a combination of cell, landline and unpublished numbers in the company database. Access is granted online at http://reversephonelookupapp.com.
Phone network databases are usually shared through caller identification networks. These records have remained a way that a person can access the first or last name data attached to a phone number. While these systems can be helpful, additional information can be hard to locate due to privacy blocks through some providers.
The phone lookup services that are now provided are designed to provide this extra data. Reports can now be generated online for viewing or are now printable for use offline. Some of the data types that are presented includes address, former address, name, birth date, last name and other identifiable data. These can be accessed from a one-time use or unlimited plan.
The new access plans for the company secure database were recently announced. These plans now provide immediate ways that any U.S. number can be searched online. The direct link to the company database through one of the two available search plans offers access to the new 500 million numbers now online. Adults can receive immediate access to this system using a major credit card.
About ReversePhoneLookupApp.com
The ReversePhoneLookupApp.com company provides secure access it its company database of millions of phone records online. This company supplies this information through data acquisition of public and private sources. The adult access to the company database is designed to provide phone records data online for research purposes. The ReversePhoneLookupApp.com company updates the content inside of its database regularly to ensure that accessed data is complete and available for searchers when requested. Search access online is now granted 365 days a year for all customers.