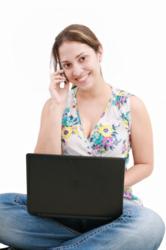 There are now millions of mobile phone records that are included in the new online search system.
San Francisco, California (PRWEB) December 27, 2012
Phone Detective has added a reverse phone search tool for cell phones to its website online. This new tool is meant for adult use and can search almost any U.S. phone records entirely online. The public records that are offered can include phone carrier information, first name, last name and other identifiable information that searchers can use.
The standard Caller ID systems that are offered with an average cell phone offer records that are included in telecom databases. While these resources can contain useful data, those that know how to opt-out of these lists can make a phone number private. This method of privacy control has created the need for a new search system for cell phone numbers online.
The new search tool available from PhoneDetective.com is designed to offer the public records that cannot be found using other sources online. There are now millions of mobile phone records that are included in the new online search system.
Text messaging is one form of communication that users of cellular phones often use apart from making actual calls. A person that receives a text message from an unknown cell number could use the new tool offered online to help locate the owner of the number. This alternative search method is designed to help more people find information that is not accessible through other sources.
A new annual plan is now offered with the reverse phone lookup services. A person that is interested in conducting unlimited searches any day of the year could sign up for the annual plan. This plan offers a complete guarantee of the information that is provided using the searching tool.
About Phone Detective
The Phone Detective company launched online in 2009 and allows immediate access to its public records databases. More than one database is used to provide the most updated information available. This company is one of the first of its kind to offer consumers access to information that was normally reserved for private detectives or search companies. The Phone Detective system provides online access in a secure area for adults that lookup landline or mobile phone numbers to help verify or identify the identity of a user attached to a U.S. phone number.