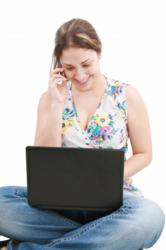 The Cell Phone Registry website now provides a way to search unpublished numbers.
San Francisco, California (PRWEB) November 19, 2012
The Cell Phone Registry website has added a new feature to its search system for reverse cell phone searches online. The ability to lookup unlisted phone numbers has been added to the database system. The search tool here provides immediate access to this new search feature.
This new search function is helping to match ownership information with millions of unlisted numbers. Owners of cell phones or landline phones can now used this unlisted number search tool to verify calls.
Traditional caller identification systems report the first and last name that is registered to a telephone number. The drawback to many of these systems happens with unpublished numbers. Telephone calls that are not displayed through these identification networks can be difficult to verify.
The rise in cell phone ownership over the past decade has intensified the need for a better identification process. The Cell Phone Registry website now provides a way to search unpublished numbers.
The data that is collected currently represents millions of telephone records. This data is obtained through public sources that not all consumers have access to online or offline. This data collection and storage complies with all FCC legislation and the Cell Phone Registry is not a consumer credit reporting agency. The publicly available data is presented in an easy to read format online.
Aside from unpublished phone number lookups, more detailed information is available through the new online search system. Both current and former address information can now be viewed online. This can help employers or individuals to compare data when verifying data submitted through job applications or other legal methods that do not violate public privacy laws.
Background search reports are another way that information can be verified. The growth of social media websites and account creation has brought forth a public safety issue in some parts of the country. Those with criminal pasts could correspond with people online that are unaware of a person's criminal background.
The Cell Phone Registry company now offers full background checks as an add-on to any cell phone lookups conducted online. The detailed information is now accessible or printable from any Internet connection or mobile Internet connected device. This easy way to conduct searches online could eliminate the need to hire private investigators.
New records are added routinely by the Cell Phone Registry database. This data is obtained to help ensure that users of the search system can find a number or other information privately online. A match guarantee of all searches conducted provides a money back guarantee for premium searches that result in no data found or a second search is offered at no cost.
About Cell Phone Registry
The Cell Phone Registry company provides instant searching of publicly accessible consumer information online. This data has been collected from trusted sources. Portions of the data include cell phone numbers, landline numbers and other forms of contact that are unlisted. The Cell Phone Registry company offers one of the simplest was to find out the owner of a phone number, background check report or other report online. Both simple and premium searches are available through any device with an Internet connection.