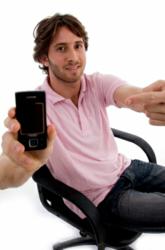 The Reverse Mobile company has launched this new service to takeaway the fear, anxiety or worry that some can feel when unknown people call their phone number.
San Francisco, California (PRWEB) November 14, 2012
Unknown and unlisted numbers that used to appear on cell phones and landline caller identification systems will now be a thing of the past. A new telecom service provider has launched an online-only reverse phone search platform to help locate the owner of nearly any U.S. phone number. This new search tool can be accessed here online and all searches are completed in under 30 seconds.
The Reverse Mobile company has launched this new service to takeaway the fear, anxiety or worry that some can feel when unknown people call their phone number.
Telecommunications providers offer phone services that usually include some form of caller identification for free or for a small monthly charge. While caller identification is useful, one drawback that this service has is the information that is displayed during a call.
Phone numbers that are on the Do Not Call Registry listing are excluded from these services. Consumers that opt out of the caller identification system are also not included in the data.
One way that the Reverse Mobile company is helping to combat this problem is by allowing the instant online lookup of almost any U.S. number. Millions of phone numbers are included inside the online database.
A simple search takes less than 30 seconds and can reveal more than just the first and last name attached to a phone number. Things like street address, phone carrier information, GPS maps and other information is offered through the reverse phone search system.
Parents that do not actively monitor children's phone usage could find that locating incoming numbers can be difficult. Some cell companies do not provide correct routing of numbers due to digital porting.
Companies like the Reverse Mobile company are offering ways that parents can use to keep track of phone calls that come into a landline, cell or prepaid phone of a child.
A simple search by number of partial number can reveal instant information to parents online.
The Reverse Mobile company offers more than one plan that can be purchased for long-term phone number searches. A premium annual plan provides unlimited phone number lookups. This can allow any numbers to be searched day or night for 365 days a year.
This tool can be useful to stop bill collectors, neighbors or things like Cyberstalking from interrupting someone's personal life. Instant searches can be performed on this section of the Reverse Mobile company website.
About Reverse Mobile
The Reverse Mobile company is one of the first of its kind online to offer exclusive number searching for nearly all U.S. numbers. As a way to innovate its services, the lookups of cellular, landline, prepaid and other numbers is now available from the Reverse Mobile website. The launch of this service in early 2012 has helped to provide an alternative to men, women and families that search for a more reliable service compared to caller identification systems. Free and premium searches are available through the Reverse Mobile company website.