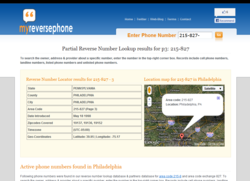 MyReversePhone.com is a reliable up-to-date area codes directory.
Issaquah, WA (PRWEB) November 15, 2011
Keeping in touch with the loved ones - friends and family - is challenging sometimes. MyReversePhone.com, a reliable reverse number lookup, helps customers to achieve this goal. A simple phone number is the only piece of information customers need to find addresses. From reverse phone lookup to area codes directory to background checks, MyReversePhone.com is a complete and specialized search engine, providing crucial pieces of information on the people associated with a certain phone number.
Reverse phone searches are useful for other situations, too. Sometimes people are called and disturbed by anonymous callers - sometimes its just an automated message, sometimes a marketing call and sometimes just an abusive caller. Customers have the opportunity to find out in simple and fast way the name and the address of the caller bothering or harassing them. Simply by typing the phone number the call came from, one can have have access to detailed information on the prank caller or the abusive phone calls, such as full Name, home address, cellular numbers, unlisted phone numbers.
Finding out details about a potential employee or business partner is a must, especially in today's world. Getting the references from old work place is a good thing to do, even better is to know more about the person's background before making them part for the business family. Whether doing a free reverse lookup or looking for a complete package containing the background check, MyReversePhone.com is the ideal resource.
MyReversePhone.com, at the same time, is a reliable area codes directory. People calling from cellular phones are no longer out of reach. Integrated services help people locate the precise area of the annoying callers simply by using the area codes directory. An example for area code directory for Texas is available at Area Codes - Texas. This is a great help when it comes to personal safety or even the security level of a certain business.
"Our goal is to help our customers deal with situations that occur in everyday life: the desire to get in touch with long lost friends or estranged relatives, the need to protect them, their families and businesses against abusive and harassing callers. MyReversePhone.com offers the right solution for all the problems. A simple search that only takes seconds bring amazing results to our customers. Detailed information such as name, street address, cellular phones, unlisted numbers, historical and current info are only a click away", declared representative of MyReversePhone.com
Visit MyReversePhone.com today for the whole range of reverse number lookup services: number lookup, area codes, free reverse lookup, background checks and more.
About:
MyReversePhone.com guarantees easy and fast access to all the information people need, when it comes to reverse number lookups. A complete phone number reverse solution, designed to satisfy all needs. For more information, please contact pr at myreversephone.com
# # #