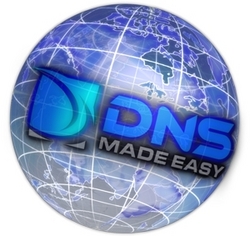 Tools like this are crucial to helping network administrators worldwide
Reston, VA (Vocus) November 1, 2010
DNS Made Easy (dnsmadeeasy.com), the leading IP Anycast managed DNS service provider, reconfirms their committemnt of a free web-based tool to assist all system and network administrators in the delegation and configuration of reverse DNS.
This valuable tool can be found at ReverseDNSTrace.com and is offered by DNS Made Easy to all Internet users.
Reverse DNS Trace is helpful for DNS administrators to verify that their reverse DNS zones and PTR records are correct. The tool offered by DNS Made Easy will query for the reverse DNS entry for an IP address and also provides a reverse DNS delegation trace that allows users to see the entire reverse DNS delegation chain for their IP addresses and to see where their reverse DNS may be broken.
"Tools like this are crucial to helping network administrators worldwide," states Bryan Hughes, Vice President of System Operations at Tiggee. "Many network administrators are often put into situations where they need to troubleshoot reverse DNS and are unable to get access to the correct tools to provide the answers that they need. With ReverseDNSTrace.com administrators are able to get a full report of where their reverse DNS may be broken with just a web browser."
DNS Made Easy states that one of the most common questions users ask after sign up is how to migrate and configure their reverse DNS zones. This is often due to the many differences in ISP delegation of reverse DNS to authoritative name servers. By providing a tool like this for free to the Internet community it can assist not only customers, but the general population as well.
"Because DNS Made Easy is one of the largest IP Anycast DNS providers in the world and we currently provide reverse DNS for several thousand reverse DNS domains, we understand where users are having issues related to DNS and reverse DNS in particular," stated Bryan Hughes. "Providing tools like RerverseDNSTrace.com to the public will allow anyone to troubleshoot reverse DNS issues for any host regardless of whether or not they are one of our customers. This tool was originally developed for use by our customers, but we decided to release this to the Internet at large to provide assistance with reverse DNS troubleshooting to the Internet community as a whole."
About Reverse DNS
ReverseDNSTrace.com also provides extra mail-related checks to verify a mail server's forward and reverse DNS is properly configured. This can be used by network and mail administrators worldwide to troubleshoot their systems and make sure that email sent from them is not marked as spam due to an improper DNS configuration for their mail hosts.
The ReverseDNSTrace tool can be found at http://www.reversednstrace.com.
About DNS Made Easy
DNS Made Easy is a subsidiary of Tiggee LLC and is a leader in providing global IP Anycast enterprise DNS services. DNS Made Easy launched their DNS services and web management portal in 2002 and has grown to manage hundreds of thousands of customer domains receiving more than 2.0 billion queries per day. DNS Made Easy has a proud history of 99.9999% DNS uptime and industry leading ROI since launching their DNS service.
About Tiggee LLC
Tiggee LLC (tiggee.com) is a privately held company, formed in 1999 to provide innovative internet solutions for businesses. "Putting your business on the Internet is our business." Tiggee LLC's subsidiaries include DNS Made Easy (IP anycast enterprise managed DNS services - dnsmadeeasy.com), VPSit (enterprise virtualization environments - vpsit.com), Host Made Easy (dedicated server hosting and co-location services - hostmadeeasy.com), Top Level DNS (TLD name services - topleveldns.com), Resolving Name Server (resolvingnameserver.com), Show My Host (showmyhost.com), Reverse DNS Trace (reversednstrace.com), IPv6 Verify (ipv6verify.com), and Domains Made Easy (domainsmadeeasy.com).
# # #