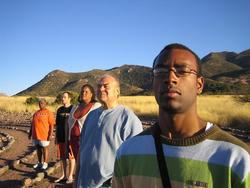 We need to wake up to the possibility that simply changing our diet can significantly reverse and even cure this disease. The results of the participants in this documentary offer evidence of that
Bethel, CT (PRWEB) April 25, 2009
After being ignored by the organizers of the World Diabetes Day (November 14, 2008), an event run by the International Diabetes Federation, Filmmakers Alex and Nicolas Ortner launched a movement to share vital information that can save lives and help the 246 million people afflicted with diabetes worldwide. Information, that apparently mainstream diabetes organizations don't want to share.
"Despite the American Medical Association's claim that 'Diabetes is a chronic disease that has no cure' documentation is mounting that could prove otherwise. The Movement to Reverse Diabetes Naturally and Reversing Diabetes Action Day was birthed out of our frustration with being able to share this information through traditional channels and reach diabetics," states RDN Movement co-founder Alex Ortner.
Reversing Diabetes Action Day slated for April 25, 2009 aims to spread educational resources on nutrition for reversing diabetes naturally around the world. It is being supported by local events, online activities, educational materials (including the Simply Raw DVD), experts, educators and partners worldwide who have committed to this cause (http://www.RDNMovement.com).
"We supported the making of the film Simply Raw: Reversing Diabetes in 30 Days hoping to shed light on an alternative cure to this pandemic disease. But when it came time to share the evidence as part of the World Diabetes Day, our calls were ignored and all attempts to share our findings from this ground-breaking film were unwelcomed," said Nick Ortner, who along with his brother Alex co-founded the Movement and helped finance the film.
Simply Raw (Presented by Raw for Thirty, LLC) is a fascinating, independent film following the remarkable journeys of six diabetics (Type 1 and 2) for 30 days as they take the
"Raw Challenge" to reverse their disease naturally without prescription drugs by eating only organic, vegan, uncooked, 'raw foods'. Set at The Tree of Life Rejuvenation Center in Arizona founded by Gabriel Cousens, M.D., the film follows the participants as they are challenged to give up their traditional American diets consisting of meat, dairy, sugar, processed foods, and cooked foods, as well alcohol, nicotine, and caffeine, as they continue to reduce their dosages of insulin and prescription medications.
"We need to wake up to the possibility that simply changing our diet can significantly reverse and even cure this disease. The results of the participants in this documentary offer evidence of that," states Dr. Cousens. The author of There is a Cure for Diabetes and founder of The Tree of Life, Gabriel Cousens, MD is a well-known holistic medical doctor for 35 years and published authority on alternative healing and raw living food nutritional therapies. He has helped thousands heal myriad diseases through the power of raw foods.
The film also features leading wellness experts, physicians, authors and advocates including Anthony Robbins, Woody Harrelson, Rev. Michael Beckwith, Morgan Spurlock, David Wolfe, Joel Furhman, M.D. and Fred Bisci, Ph.D. who all discuss the curative power and benefits of raw foods.
A diet consisting of plant-source only, raw "live" foods is rapidly gaining worldwide recognition for its power to heal and rejuvenate, as well as maintain health at a high energy level.
Simply Raw chronicles the transformation of six "real life" participants - with no prior knowledge of a plant-source only, raw food way of life - all struggling with diabetes. Their inspiring transformations are documented over 30 days. Upon arrival at the Tree of Life, the group receives physical exams and medical tests under the care of Dr. Cousens and his staff. Remarkably nearly all of the participants were able to attain normal blood sugar levels and eliminate their insulin and prescription drug intake they depended on for decades.
For more information about the Simply Raw DVD, please visit http://www.simplyrawmovie.com. To become involved in the movement and Reversing Diabetes Action Day please visit http://www.rdnmovement.com.
###