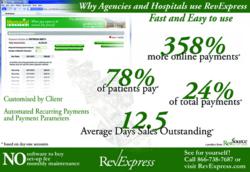 "Our clients see dramatic increases in the speed in which they get paid. As an added bonus, they see improved efficiencies because RevExpress payments are completely automated and free up internal resources."
Muncie, IN (PRWEB) August 28, 2012
RevSource Solutions®, the nation's leading personalized payment solution company, today announced a 400 percent increase in customers over the past 12 months. The volume of transactions processed increased 448 percent over the same period. This growth is due to the fact that customers are adopting a new, more effective payment solution. Using RevExpress, customers are experiencing an increase in online payments of up to 1200 percent while increasing efficiencies.
During this period, RevExpress has seen an increase of diverse accounts. Hospitals and physician practices equate to 51 percent of RevExpress accounts. Collections agencies equate to 26 percent, followed by billing companies at 19 percent, and 8 percent for other accounts.
"Customers use RevExpress as the quick and easy solution for online payments for anyone that sends out invoices, statements or e-statements," commented Shawn Kerrigan, president of RevExpress. "Our clients see dramatic increases in the speed in which they get paid. As an added bonus, they see improved efficiencies because RevExpress payments are completely automated and free up internal resources."
About RevSource Solutions:
RevSource Solutions, LLC headquartered in Muncie, Indiana has developed innovative and efficient receivables management and revenue cycle enhancement solutions. Clients representing market sectors include Healthcare, Collection Agencies, Law Firms, Charitable Organizations, and Membership Organizations. RevExpress utilizes secure, personalized websites to increase and accelerate revenue. The Company facilitates the management of payments, processing, remittance, e-mail confirmations, demographic data and insurance updates all in a single online solution.
RevSource Solutions, RevExpress and respective logos are trademarks of RevSource Solutions, LLC. Other company and product names may be trademarks of their respective owners.
Media Contact:
Paul G. Smith
765/744-3443
pauls(at)RevSourceSolutions(dot)com